Me gusta el patinaje artistico! The second event on the JGP stop was Mexico City and though the competition wasn't as evenly matched here as last week, there were still some pretty good performances from the ladies...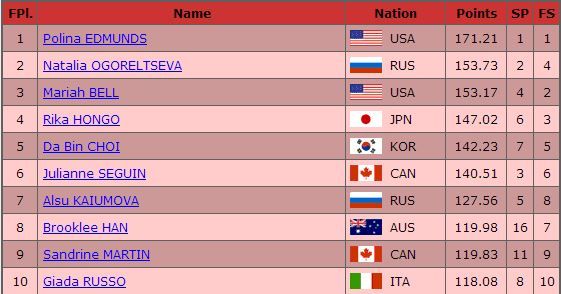 Polina Edmunds (USA): 57.78 (SP) + 113.43 (FS) = 171.21 (1

st)
I must say, I like Miss Polina.

Her presence is very striking when you compare her to a number of the other junior girls.

At 15 years old she's already 5'4" which gives her a much more mature appearance on the ice.

Even though she's thin with long arms and legs, she seems to be very aware of her body so she doesn't give off that awkward Bambi vibe.

Her movements are controlled and graceful and that really adds to her presentation.
Polina started off strongly in the SP.

She completed all of her jumps but her 3Lz-3T was < which lost her a few points.

Still, she placed first in the segment and went into the FS with a 0.29 lead over Natalia Ogoreltseva of Russia.

With the competition that close Polina had to deliver to stay on top and, for the most part, she did that.

Her first two jumping passes were 3-3s: 3Lz-3T and 3F-1L-3S. She got credit for both,though she did lose 1.20 points on the second combo.

Polina lost all speed on the landing of the 3F but somehow managed to squeak out the 1L-3S with virtually zero speed and she got full credit for it.

I was impressed!

I do think she was a little nervous during the performance; several of her jumps had scratchy/sloppy landings but she received no < or e calls and she presented her program well.

Polina easily won the FS by more than 10 points and sailed to an impressive 17+ point victory.

Very nicely done!
Natalia Ogoreltseva (RUS): 57.49 (SP) + 96.24 (FS) = 153.73 (2nd)
Natalia doesn't look like the rest of the spindly little juniors coming out of Russia which immediately sets her apart.

She reminds me a bit of Liza T…it's her distracting/excessive use of her wrists and hands during her programs.

Although she's not as refined as Lipnitskaya or Medvedeva I do think she has a solid base to work from.
Natalia started off well in the SP.

She completed all of her jumps (3Lz-2T, 3L, tano 2A) and earned all level 4s for her spins.

Her clean skate had her right on the heels of Polina heading into the FS but in order to overtake her, Natalia had to deliver.

Unfortunately, she was not able to.

She opened her FS with a rare and difficult 3L-3L but the second loop was < and she fell.

She recovered well with a solid 3Lz-2T-2L and three other triples and looked to be getting back on track until the end of her program.

She doubled and singled her intended 3S-2A sequence and then stumbled in her flying sit spin which received zero points.

Natalia's mistakes hurt her base value and made it impossible for her to catch Polina.

She finished 4

th

in the FS but thanks to her strong showing in the SP she was able to capture silver by only 0.56 points.

Not the strongest first outing but she should be happy she was able to fight and hold on.
Mariah Bell (USA): 49.91 (SP) + 103.26 (FS) = 153.17 (3

rd)
Mariah lacks the technical firepower of the other girls but I do think she makes up for it in her presentation.

Again, it's always nice to see a junior skater with good control and flow…Mariah has both.

I do wish she'd drop her shoulders a bit but I love her use of her arms.

She presents herself well and that's always a plus in my book.
Mariah started off roughly in the SP.

She flubbed the landing on her 3Lz-2T and then doubled her 3L.

Those mistakes cost her roughly 5 points and left her in 4

th

place heading into the FS, nearly 8 points behind Polina and Natalia.

I enjoyed Mariah's FS (you can't go wrong with "Titanic") and she did a decent job of delivering it.

She opened strongly with a 3Lz, 3F-2A sequence and two other triples.

Mariah did hit a few snags in the second half of the program with a doubled 3F and a hand down on her 3Lz combo but overall, it was a solid performance.

She finished 2

nd

in the FS and narrowly missed silver here.

Mariah lost points on execution (a couple of tilted/scratchy landings, loss of level in her layback spin) and in the end those tiny mistakes made the difference between silver and bronze.

Still, she recovered well from her SP nicely, gave a solid effort in the FS and should be very proud of herself.
Rika Hongo (JPN; 147.02) placed 4

th

.

She fought her way back from a 6

th

place finish in the SP to finish 3

rd

in the SP.

I like Rika's speed and flow across the ice but she's not connecting to her performance yet.

It's getting better but she still needs some work.
Da Bin Choi (KOR; 142.23) placed 5

th

overall.

I like her fast rotations in the air as well as her deep knee landings.

She's still pretty green in terms of presentation and performance but even though she had a few issues (3Lz-3T<, fall on her 3F as well as a -1.00 time deduction) I thought she gave a pretty solid effort in her FS.
Josephine Taljegard (SWE; 108.62)
ended up placing
14

th
overall but I have to give props to this girl.
She goes
HARD
!
I really love her speed and power as well as the
uber
amount of energy and commitment she gives when she's out on the ice.
Girlfriend really lays it all out there and I definitely appreciate that.
You can watch all of the videos on the ISU's JGP YouTube channel.

I really appreciate them for doing this again this season.

It's great to be able to keep up with the junior skaters.
This week is JGP Kosice in Slovakia. This will be Karen Chen's (USA) second JGP event and it will be the season debut for Barbie Long (USA), Serafima Sakhanovich (RUS), Hae-Jin Kim (KOR) and Ziquan Zhao (CHN). Ta for now!