Woohoo! The Junior Grand Prix has officially begun! Let's get to it...
Here are the final results: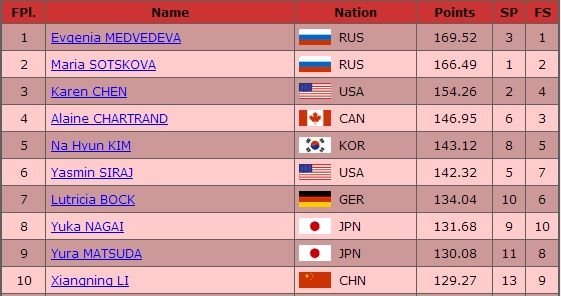 Evgenia Medvedeva (RUS): 55.17 (SP) + 114.35 (FS) = 169.52 (1st)
Evgenia reminds me of a warmer Julia Lipnitskaya. Nice presentation for her age, good flexibility but a lot less mechanical, which is a great thing. Evgenia started off a little bumpy in the SP. Her 3F-3T and 2A were solid but she lost 0.30 points on the landing of her 3L and received zero points for her step sequence because it didn't cover enough ice. Those 3 points hurt her and left her in 3rd place heading into the FS. No worries though. Evgenia stormed back with a mega-vengeance in the FS, executing a flawless 7 triple program which included two 3-3s (3F-3T and 3S-3T in the bonus). She won the FS by more than 7 points and leapfrogged to the top of the podium. I like what I've seen from her so far (minus those freakin' gloves!) and I'm excited to see more.
Maria Sotskova (RUS): 59.45 (SP) + 107.14 (FS) = 166.49 (2nd)
I love Maria's appearance on the ice but, like the majority of the Russian skaters, her packaging (music, dress, choreography) needs a helluva lot of work. Maria started off very strongly in the SP, nailing all of her jumps (3F-3T, 3L, 2A) and maxing the levels on her footwork and spins. She went into the FS with a slight lead over Karen Chen. Skating last is never easy and I'd imagine it's a lot tougher when you are leading at your first international event. The nerves got to Maria at the beginning of her program. She fell on her 3F-3T and received a << on the 3T. Luckily she didn't let the program go and pulled off the rest of the program without a hitch, but up against to Evgenia's flawless program her score couldn't hold up and she had to settle for silver. Strong performances overall but I seriously need her to reconsider her dresses this season...
Karen Chen (USA): 58.21 (SP) + 96.05 (FS) = 154.26 (3rd)
Karen made some waves this summer and managed to make a few here as well. Her SP was fabulous. Great choreography, excellent speed and coverage and a solid technical display as well. She did lose points on her 3Lz-3T which was
<
but executed the rest of her jumps very well. Karen earned the highest PCS of the segment and was only 1.24 points out of first heading into the FS. I think Karen's nerves got the better of her in the FS. She stayed on her feet but three
<<
. an
<
, and an
e
call lost her a lot of points and she finished 4th in the FS and 3rd overall. Not bad for her first JGP event but I'm sure she was hoping for better than that. The good news she is very capable of more than that so hopefully this was a good learning experience and she'll do better at her next event.
As for the rest...
Alaine Chartrand (CAN)
finished 3rd in the FS and managed to pull herself from 6th place in the SP to finish
4th
overall.
Yasmin Siraj (USA)
finished
6th
overall. I really love her skating (great edges, musicality and packaging) but she's still under-performing at these junior events. It's going to be very difficult for her to break into the senior ranks if she can't produce better results than this.
Yuka Nagai and Yura Matsuda (JPN)
8th
and
9th
respectively. Yuka has nice flow across the ice and a delicate style that reminds a bit of Shizuka Arakawa. Yura reminds me of a lankier Satoko Miyahara which is both good and very bad. Good because she has nice basics and bendy knees; bad because her jumps are very tiny and skim the ice.
Unlike in seasons past where the winner was so clearly above and beyond the rest, I think there could be some healthy competition in the ranks this year. All three girls were within a point of each other in PCS. Evgenia had problems in the SP but beat out Maria by less than 3 points; it was a close race. Karen made multiple costly mistakes in her FS which significantly lowered her TES; a solid skate from her would have had her right in the mix with the other two. On a night when all three skate similarly, this could be a very tight race.
Great first event! This week is
JGP Mexico Cup
and the season debut of US junior champ
Polina Edmunds
as well as
Mariah Bell
and
Rika Hongo of Japan
.