So much went on this weekend! I'll start with my JGP Kosice ladies review and then recap the senior ladies event at the US International Classic. Let's get to it.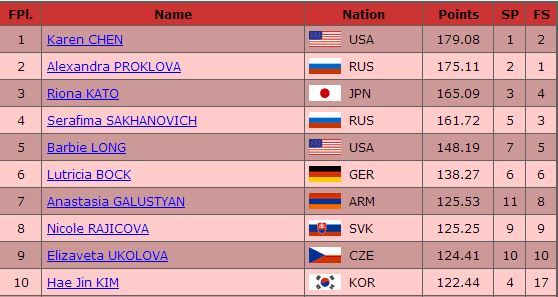 Karen Chen (USA): 64.46 (SP) + 144.62 (FS) = 179.08 (1st)
I fall more in love every time I see this girl! Her speed is amazing, her jumps soar, her spins are wonderful and I love the way she performs. Karen had a near perfect SP. All of her jumps were clean (3Lz-3T, 3L, 2A) and she performed with speed and pizazz. Her only mistake was the loss of a level in her layback spin (level 3 instead of level 4); regardless, she went into the FS with a 4 point lead. Unlike her last event where the pressure got to her, Karen kept her composure very well and had an excellent FS with no major errors. She did receive two < calls (3Lz-3T< and 3L<) as well as an e call on her 3F, but none of these minor errors disrupted her program. She finished a very close second in the FS and that result combined with her winning SP gave Karen her first JGP gold medal. I'm so proud of her. With her two JGPs finished, she'll have to wait around to see if she's done enough to qualify for the final (I'll recap the JGP standings after next week's event).
Alexandra Proklova (RUS): 60.38 (SP) + 114.73 (FS) = 174.11 (2nd)
Alexandra reminds of Julia Lipnitskaya except I actually enjoy her a lot more than I enjoy Julia.
Alexandra engages the judges and the audience more in her performances which makes her much more enjoyable to watch.
She started off very strongly executing a perfect SP (3F-3T, 3L, 2A) and finishing second in the segment.
Alexandra roared in her FS…and I mean that
literally
; she was dressed in a blue tiger print dress…those Russians and their fashion sense.
Anyhoo, she turned in a nearly flawless FS which included a lovely 3Lz as well as a 3F-1L-3S.
Her only error was her 2A-3T which received a
<
call.
Other than that she got level 4s on all of her spins and really performed her program well.
I wasn't a fan of the program but I loved the way she got into the character of the music and really gave it her all.
I'm always a fan of a performer.
Alexandra won the FS and earned a silver medal. Nicely done.
Riona Kato (JPN): 57.43 (SP) + 107.66 (FS) = 165.09 (3rd)
I like Riona Kato. She lacks the grace of Mao, the spark of Kanako and the joy of Akiko BUT I could see her developing into a lovely skater. She's pleasant to watch and she's solid from a technical standpoint. I think once she develops a personality on the ice she'll really start to shine. Riona had a very solid competition here. Her SP was excellent (3T-3T, 3L, 2A) and she went into the FS in a good position to medal. Riona executed a very solid 7-triple FS which included a 2A-3T. Her only mistake was a fall on her 3Lz near the end of the program but she recovered with a 3F-2A sequence and a final 3L. Riona placed 4th in the FS but thanks to her solid SP, she placed 3rd overall and won her first JGP bronze medal.
Serafima Sakhanovich (RUS; 161.72) came in 4th here. Originally she was expected to be among the medal contenders but she struggled in the SP, placing 5th. She fought back very hard in the FS with a 7-triple program which included two 3-3s (3F-3T and 3F-1L-3S) and finished 3rd in the segment. Unfortunately, it wasn't enough to get by Riona and she had to settle for 4th but that monster effort in the FS lets you know that she can definitely contend with the top finishers.
Barbie Long (USA; 148.19) pulled herself up from 7
th
place in the SP to finish 5
th
overall.
I thought her program was lovely and aside from a fall on a 3F, I was really impressed with her.
She'll need tougher content to make a run at the podium but I really enjoyed her skating.
Hae-Jin Kim (KOR; 122.44) placed 4
th
in the SP and was in a great position to finish in the top 5 here. Unfortunately she unraveled in the FS placing 17
th
in the segment and dropping to 10
th
overall.
She's such a lovely skater but until she can get those jumps to materialize it's looking really dark for Korea post-Sochi…
You can watch the entire JGP Kosice competition here on the ISU's JGP YouTube channel. This week is JGP Baltic Cup. We'll see Evgenia Medvedeva of Russia and Mariah Bell of the USA in their second event, as well as the season debut of Angela Wang of the USA, Gabrielle Daleman of Canada and Miyabi Oba of Japan.
2013 US International Classic
This competition had a few surprises and a few letdowns…
Here are the final results:

Courtney Hicks (USA): 54.80 (SP) + 117.08 (FS) = 171.88
(1st)
I have to admit Courtney is growing on me. I couldn't stand her two seasons ago; I thought her all-over-the-place skating was fugly and it made me itch. Thankfully, someone has slowed her down and smoothed her out and it makes it a lot easier to appreciate the great qualities of her skating.
Courtney struggled in the SP, turning out on the landing of her 3F-3T, botching her 2A and only earning a level 2 for her layback. She placed 3rd in the SP but was in a great position to move up in the FS. Her "Evita" FS has improved since we saw it earlier in the summer. I see more attention to the details and a little more feeling in the movements. It's always great to see visible evidence of improvements and I can definitely see it in Courtney's FS. As far as the jumps go, she went balls to the wall: 3F-3T, two lutzes (both in the bonus)…six triples total. It would have been seven but she doubled her final 3F. Everything else was solid, though she may want to work on increasing the levels of her spins and footwork. Courtney easily won the FS and took gold by more than 7 points.
This is the kind of performance you want to see from a Sochi hopeful. It doesn't matter that it's September…girlfriend is ready to roll. I respect that and I really hope a spot on the GP opens up and Courtney gets it. I'm very proud of what she did here and the improvements she's made. Courtney is slowly winning me over…
Gracie Gold (USA): 58.49 (SP) + 106.19 (FS) = 164.68 (2nd)
I'm going to try very hard to keep my annoyance with Gracie down to a minimum here…
Gracie's SP is horrible gag-worthy a hot-ass mess not good. I don't know who picked this music (one would assume this was Zoueva's doing) but it's not a good pick for Gracie's style of skating.
It's way too complex and abstract for someone of Gracie's limited interpretive capabilities.
The choreography, while in concept was probably brilliant, in execution is a big ol' mess of arm flailing confusion.
It was bad.
I would prefer Gracie go back to her crappy techno "Sugar Plum Faeries" SP than perform this one again.
The program was terrible and the jumps were lacking as well.
Her 3Lz-3T was a little wobbly but clean, however her 3F was hit with < and e, and she went down on her 2A (there was something in the mountain water that night).
Luckily, no one showed up in the SP so Gracie went into the FS with the lead.
Gracie skated last. I'm sure she knew of the good score Courtney put up but it's not like she hasn't beat that score before. She started off really strongly with a big 3Lz-3T…everything went downhill after that: she landed one other triple (3S) and a three-jump combo at the end (2A-2T-2T). In addition to the jumps failing her, the program is another drawing board-bound creation. It just doesn't make sense. I think Gracie's attempt to pass her program off as a portrayal of a "power witch" was misguided. Um, yeah, you're wearing a sparkly pink dress with a pretty pink flower in your hair and skating to slow sections of "Sleeping Beauty"…what about that says power witch? More importantly, is anyone buying that? It seems like Gracie and her team changed their mind about what the program was going to be after everything was finished (including the pink costume) and I'm sorry, but it's just not working.
Gracie was the recipient of some favorable judging again. I guess I can't dispute her 2nd place finish here but I very much disagree with her sizeable PCS advantage over her competitors. In my opinion, she and Courtney should be equal in PCS. Actually, I'd score Courtney higher. She is just as fast and jumps just as explosively as Gracie does but the only difference is she actually lands her jumps.
The road to Sochi is going to be very long for Gracie. Not only is she struggling to find her identity in her programs as well as having mental focus issues, now she's without an official coach…but I'll address that in a later post.
Samantha Cesario (USA): 47.91 (SP) + 109.38 (FS) = 157.29 (3rd)
I've been a fan of Samantha for a while. I love her style, maturity and the way she performs. She started off roughly but finished very well here. I loved her "Fever" SP. She has a great mix of sassy and sultry in her program and she delivered the choreography very well. Unfortunately the jumps weren't there. It was gutsy to go for the 3L-3L but she was downgraded on the second jump which lost her a lot of points. She regrouped with a good 3F but the 2A gremlin of SLC struck her too and she ended up popping the jump which earned her an automatic -3 from all of the judges. In addition to her jump issues, Samantha didn't earn good levels on her spins (a level 1 and level 2) or her step sequence (level 2). She went into the FS more than 10 points off the lead but only 6.89 points off of the podium.
Samantha fought back hard in the FS, turning in six clean triples as well as the best FS choreography of the competition. "Carmen" is the most skated to music in all of figure skating so I always cringe when I hear of yet another person using it; however, Samantha's FS is probably the best "Carmen" FS I've seen in years. According to an Ice Network article, the program was choreographed by Inese Bucevica. I've never heard of this person before but whoever you are, congratulations! That program was fabulous! I loved the edits of the music and the musicality of the choreography. The footwork was great (even though Samantha looked a little winded) and I loved the spiral sequence and ending. Excellent program! This one is already on my list of favorites for the season. Samantha's great performance placed second in the FS and she leapfrogged from 5th and landed on the podium in 3rd place. I'm very happy for her and I think as long as she works on getting her levels for her spins and footwork, she should do well on the GP this year.
Agnes Zawadzki (USA; 151.27, 4th) continues to make me question the USFSA's obsession with her. She did not do well here. It's still early but if I were her, I'd be very afraid. Courtney has thrown down the gauntlet twice now…Samantha is proving she can keep her nerves in check and deliver. Agnes' third US lady spot is in danger of being snatched right out from under her nose. If she can't find a way to get her shit together this year I think the USFSA will stop propping her up and allow one of these newer girls to take that spot. Your time is limited Agnes. Make something happen very soon or get ready to be shoved to the back of the line.
Amelie Lacoste (CAN; 147.88, 5th) knows what getting booted feels like. She's been shoved to the side to make room for Kaetlyn Osmond. I liked both of Amelie's programs and I think she's a lovely skater…she just can't hold herself together and deliver when it counts.
The outcome for this event was unexpected. I don't doubt most people had all of their eggs in Gracie's basket and expected her to win this one without too much trouble. Interestingly enough, Gracie has not placed first in an event since turning senior. Maybe that will change soon…