We've seen some good skating so far this season so, naturally, we were due for a splatfest. Cup of China was a very disappointing competition for everyone but the winner...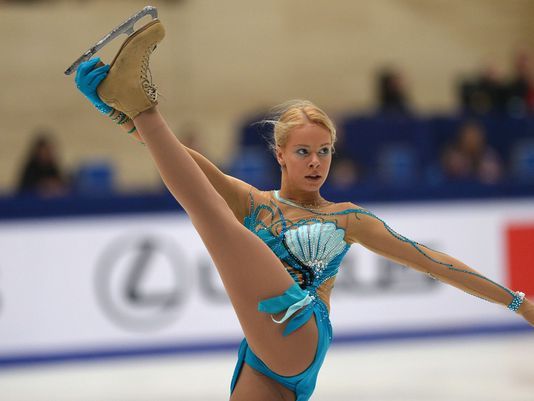 Who had Anna as the #1 fantasy pick? No one, I'm sure...
The final results: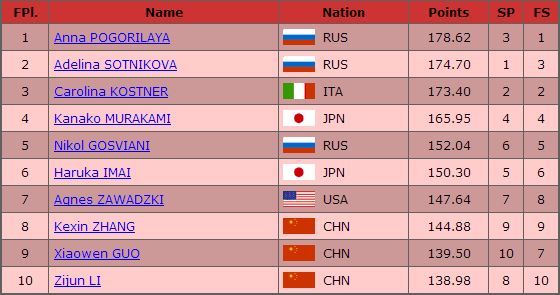 Anna Pogorilaya (RUS): 60.24(SP) + 118.38(FS) = 178.62 (1st)
I gotta say, Anna really delivered here. This competition was not good but at least one person can say they came to China and had two respectable skates.
I watched Anna last season on the JGP and remember being less than impressed with her. She was a solid skater but she really lacked that something special that made her stand out against someone like Elena Radionova. To be honest, I found her to be kinda ho-hum and boring. I'm happy to see that Anna has matured a little and gained a bit of a personality on the ice, particularly in her SP. There were a couple of nice moments in there and she managed to pull off the music well. Her 3Lz-3T was one of only two clean 3-3s in the segment (the other was Kexin Zhang's 3T-3T) and her other elements were clean and well done. Next to some of the veterans you can see where she's not as impressive in the PCS category, but she did what she needed to do by skating cleanly and setting herself up for a podium finish in the FS.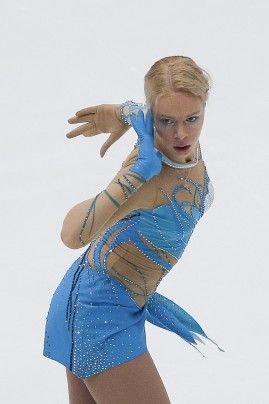 Biggest surprise victory of the season
I don't think anyone would have bet on Anna winning this event. I knew she was a steady FS skater but I still figured the best she'd have managed here would have been bronze up against the likes of Carolina, Adelina and Kanako. But it just goes to show what happens when you overestimate some and underestimate others. Anna's first two jumping passes were 3-3s (3Lz-3T and 3L-1L-3S) and both were clean. She added another three triples for a 7-triple FS plus all level 4 spins. Her only mistakes were an
e
on her 3F and two wonky axels at the end of the program. Her FS score was a personal best but not really that high when you look at the FS scores we've had so far this season (130+ by Mao and Julia, 120+ by Ashley and Akiko). I would not have thought a 118 FS score would hold up against Carolina but it did, which indicates the level of skating we saw at this competition. Nothing against Anna, but overall this was one weak-ass event.
Still a win is a win and Anna managed to win gold in her very first GP event. She has a long way to go if she's going to compete with the best but it was obvious she was the winner at this one.
Adelina Sotnikova (RUS): 66.03(SP) + 108.67(FS) = 174.70 (2nd)
Adelina drives me absolutely bonkers. I love her to Reese's pieces but I just don't understand her strategy or why she insists on sabotaging herself time and time again...
I enjoyed Adelina's SP to "Carmen." It wasn't anything special but she had a strong skate and really performed very well. She went for that damn 3Lz-3L, stumbled, but still landed it. She received
<
on the 3L (of course); however, she did not get dinged with an
e
which is really interesting. Adelina is a known flutzer but, for whatever reason, she got away with it this time. Regardless, the combo still lost 1.60 points from -GOE. Luckily, the rest of the program was clean: 3F, 2A, all level 4s on everything else...it was a good performance. She scored very well and ended up in going into the FS with 3+ point lead over 2nd place.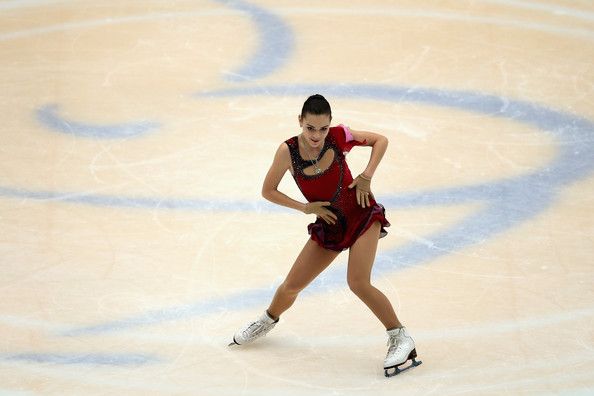 My favorite most frustrating Russian...
I never expected Adelina to hold on for gold but after Carolina's very weak FS it looked as though it might happen. Alas, no. Adelina lost gold here for two reasons: (1) those muthaf**kin' 3Fs and (2) her low level spins and step sequence. She opened up well with a 3Lz(
e
)-2T and then came apart in the air on what was supposed to be a 3F that she ended up doubling and falling on. She regrouped well with a 3L, a level 4 spin and even a clean 2A-3T...before going down again on, what else?, another 3F. Shockingly enough, even with the two falls Adelina still had a chance to win this. Her final 3S and 2A were okay; all she needed to do was finish up the program strongly and she may have narrowly won gold here. But instead she lost multiple levels on her spins and footwork which ended up costing her very precious points and probably ended up costing her gold.
A silver medal is great but Adelina is capable of so much more than this. I think her insistence on keeping the 3F in her programs (particularly the FS) is killing her. It's not a good jump for her. If that second 3F had been a 3L combination, this would have been a win for her. She and her team seriously need to re-evaluate what they're doing. If she's not going to fix flip, she needs to reduce the number of times she attempts it. A cleaner skate will equal more +GOE and higher PCS...I don't know why they don't get that...
Carolina Kostner (ITA): 62.75(SP) + 110.65(FS) = 173.40 (3rd)
Carolina isn't looking good so far. When you look at all of the Sochi podium contenders and outside contenders, everyone is on their shit early: Mao, Ashley, Akiko, Julia...they have all started out strongly, having good performances and posting great scores. Carolina is at the bottom of the heap right now.

I'm not 100% sold on Carolina's SP. I think it's pretty and it has moments but comparing it to her past two SPs, I'm not as impressed. It may take some time for the program to grow on me and perhaps a cleaner performance of it may change my mind, but overall I'm not that impressed yet. Carolina went for the 3T-3T to open the program and ended up going down on it. She recovered and finished up well but, as usual, she had the lowest TES yet highest PCS of the top 3. This cannot be her strategy this season. Everyone has upped their technical content which means a skate like this could land Carolina outside of the top 5 or 6 in a stacked field.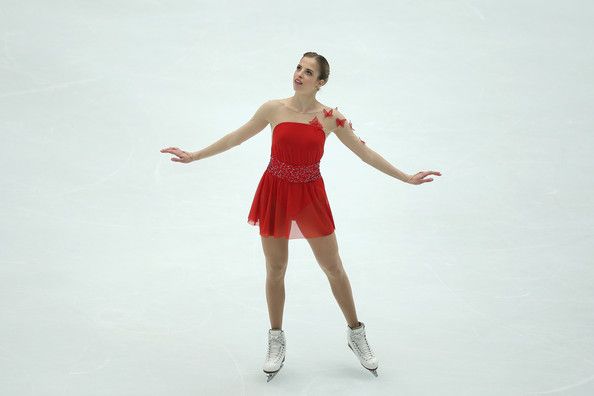 Eh...nice but she's done better
Knowing Adelina's FS pattern of not doing well and then seeing the 118 Anna put up for the FS, I really assumed this would be another gold medal for Carolina. I don't know what's going on with her but I really hope she pulls herself together, and
fast
. Only
two
clean triples in the entire program...by the way, I don't really care for this "Scheherazade" FS. Next to the fabulousness that was "Bolero," this program pales in comparison. The only thing I really liked was the deep-edged backwards spiral during the choreographed sequence (reminded me of
the Kween
)...the rest wasn't that impressive. I was expecting a lot more from her. Even with only two triples Carolina was able to score 110+ points and stay on the podium, but this was far from anything resembling a successful debut.
Since last year everyone has been positive that the Sochi podium will be some combination of Yu-Na Kim, Mao Asada and Carolina Kostner. After this competition some doubt has been cast about whether or not Carolina is ready. We've seen her come apart at the seams at the Olympics in the past...only time will tell if this competition was just a slow start, or the beginning of a pattern we've seen before.
As for the rest...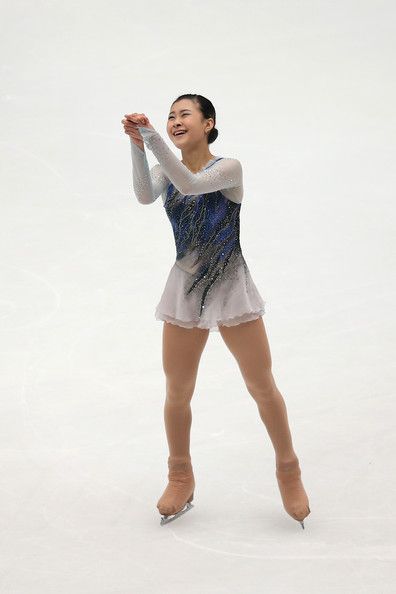 Please scrap that crappy SP...
Kanako Murakami (JPN; 165.95, 4th) had a typical start to her season. She hasn't been a strong season starter since her debut season on the GP. She usually starts slowly and revs up so that by the time 4CC and worlds comes around, she's ready. That's the good news. The bad news is I absolutely HATE her SP. Kanako usually has really great SPs. Her past two ("Chaconne" and "Prayer for Taylor") were gorgeous and so well suited to her, but this SP is like taking two steps backwards. It's almost like she's trying to redo "Jumpin' Jack" which was a great program for her but no longer fits who she is as a skater. I hate the music, I hate the choreography and I hate the dress. I sincerely hope she scraps that program...it's awful. Thankfully her "Papa Can You Hear Me" FS is much better.
Nikol Gosviani (RUS; 152.04, 5th) isn't like the rest of the Russian newbies. She has a different look and a little more maturity than we're used to seeing from a debut ingRussian senior. I enjoyed both of her programs. She gives a good performance but she does need to work on her jumps. Her air position needs some work. Her elbows look like they should be pulled in closer to her body which may help her rotation. Not a stand out debut but congrats to her for getting top 5 at her first senior event.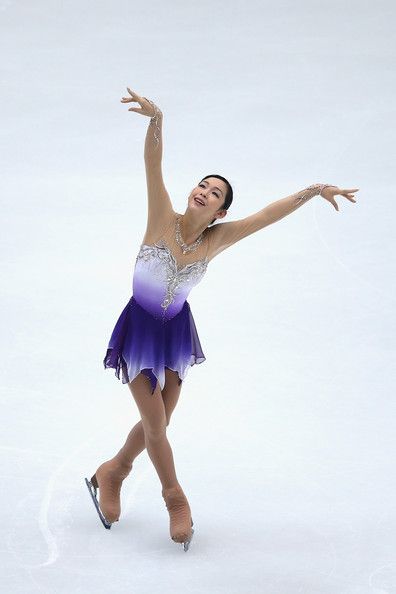 Get it together Haruka!
Haruka Imai (JPN; 150.30, 6th) is such a lovely skater. I really hope she learns how to get her jumps under control because with Mao, Akiko and possibly Kanako leaving at the end of season, the Japanese women's field will be wide open. Haruka is a veteran and has the presence and presentation of a veteran...all she needs is the consistency and the jumps. Both of her programs were lovely and I'm glad to see she's going for the harder content in her SP. She struggled in the FS (two falls, low level elements) but hopefully she'll continue to improve and do better at her next event.
At the bottom of the US ladies heap so far...
Agnes Zawadzki (USA; 147.64, 7th) is not making a good case for herself in terms of getting that 3rd spot on the US women's Olympic team. Agnes needed to put forth a convincing effort here to keep her name in the mix as a front-runner but after these two disastrous performances, I can't see how any US officials would say she's a better bet than someone like Christina Gao (173.69) or even Courtney Hicks (162.00). Agnes has loads of potential but I don't know how much longer the US officials are going to continue to boost her nationally when she performs like this internationally...
Kexin Zhang (CHN; 144.88, 8th) is a nice skater but I find it extremely difficult to enjoy watching her skate. She's so cold and emotionless...it never looks like she wants to be out on the ice. She had a good SP but struggled in the FS.
Xiaowen Guo (CHN; 139.50 9th) had a decent debut. She started off pretty roughly in her SP but bounced back with one of the better FSs of the night, earning the 3rd highest TES of the segment.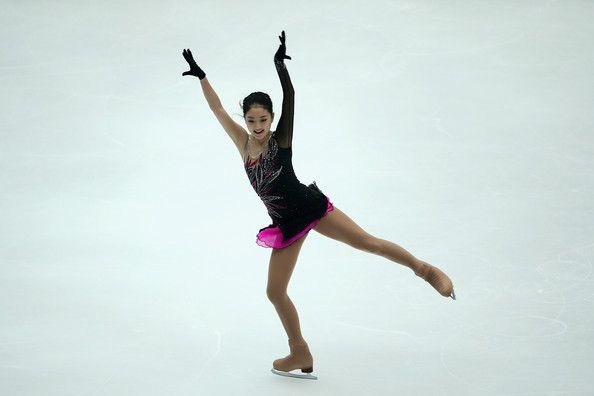 Get better soon, Zijun
Zijun Li (CHN; 138.98, 10th) must be injured or something. I know she'd been injured earlier in the summer and from the looks of it, she's not completely healed yet. China doesn't have any depth in the ladies event which makes me think even if Zijun wanted to sit this one out, she couldn't...she really should have. Both programs were slow, error-filled and extremely lackluster. She has grown over the summer but I don't think her new height is what contributed to her problems here...her head just wasn't in it. After doing so well at worlds last year, to finish last at an event on home soil is an extreme disappointment. She was scheduled to compete this week at NHK Trophy but has withdrawn. Zijun is still China's best bet for Sochi so hopefully she'll take this time to rest and heal and get ready. Get better soon, Zijun.
Very low level skating from the ladies at COC, but I'm hopeful this week will be better. NHK Trophy is by far the toughest field of the GP season: Mao Asada, Akiko Suzuki and Satoko Miyahara of Japan; Gracie Gold and Mirai Nagasu of the USA; Elena Radionova and Alena Leonova of Russia (though the rumor is Alena may withdraw); as well as Elene Gedevanishvili (GEO) and Valentina Marchei (ITA). There are so many possibilities for the podium, plus spots to the GPF are on the line for a number of these ladies. This should be a very competitive and exciting event.