The penultimate event of the Grand Prix season did not disappoint. With a mini rivalry/feud brewing and trips to the Grand Prix Final on the line, the top competitors brought their "A" game.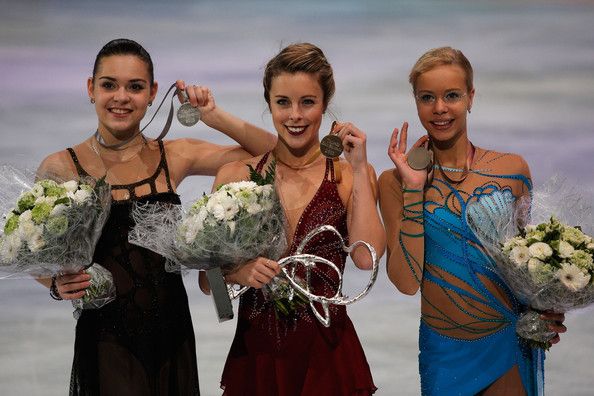 All three As brought their "A" game!
The final results: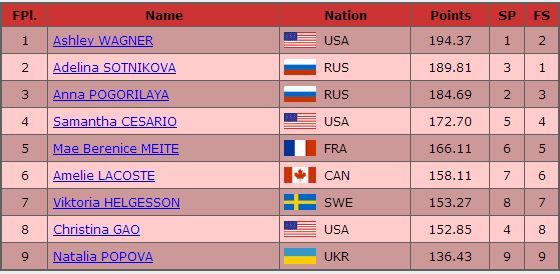 Ashley Wagner (USA): 66.75 (SP) + 127.62 (FS) = 194.37 (1st)
I just adore Ashley...I really do. I think it's because I'm so relieved the US has at least one lady who is not afraid to be amazing. She embraces the pressure that comes with being among the best and, so far, she's been able to deliver.
Ashley started off her SP with her 3F-3T combination. Yet another reason why I adore her: she sticks to her word. She promised that 3-3 would be in her programs this year and she's stuck to that. The 3T got hit with
<
but it didn't cost her too much (0.50 points). The rest of her program was spotless (3L and 2A in the bonus) and delivered very well. Even better, she's been working on her spins which were a weak point for her in her debut at Skate America. She earned all level 4s here as well as a level 4 for her step sequence. Ashley didn't top her SA score but she posted the biggest score of the segment and went into the FS with a 6.72 point lead over the rest of the field.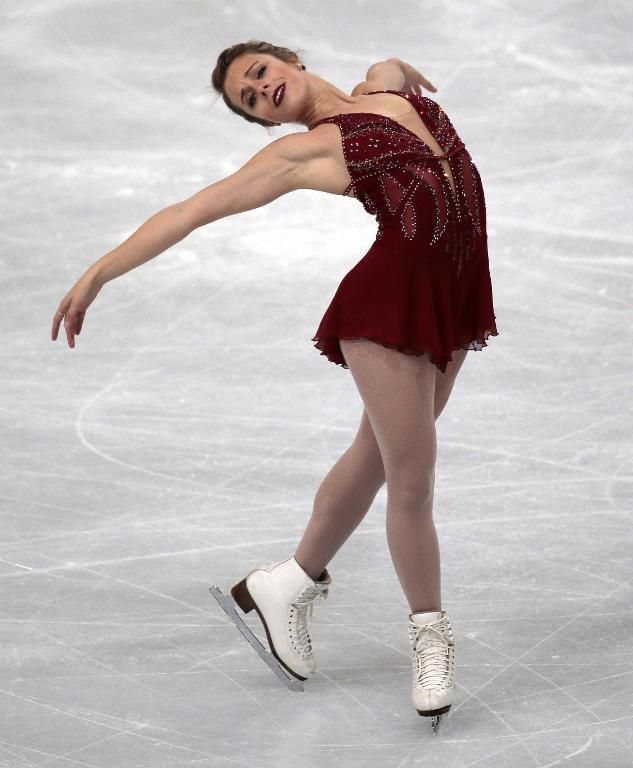 This dress is an A+++++
Ashley skated last in the FS, coming behind two nearly perfect 120+ FS. Both Adelina and Anna put the pressure on Ashley to deliver and, being the kick ass DivaWagner she is, Ashley met their challenge head on. Again, she opened with her 3F-3T. It wasn't perfect (slight 2-foot on the landing of the 3F) but it was fully rotated. She reeled off four more triple jumps before hitting a slight snag. Ashley had to step out of her final 3F which was supposed to be a 3-jump combination, so she lost number of points there. Even with the slight errors, I have to say I'm starting to like this program more. I love the new dress (
GORG!
) and she definitely gave more to the performance this time around. At SA I felt she was more focused on the technical elements than selling the program, but here you could see her feeling the choreography more and expressing the mood of the music better. Ashley placed 2nd in the FS but with her 6+ point lead from the FS, she easily captured gold, defended her TEB title and earned herself a spot in the Grand Prix Final for the second year in a row.
Ashley is the first reliable competitor for the US ladies since the days of Michelle Kwan and Sasha Cohen. She has the confidence and conviction to go out there and put it on the line. Some people (me included) gave Ashley a side-eye when she stated her goal is to be on the podium in Sochi. From what she's shown us so far this season, I'm starting to think a podium finish for Ashley in Sochi might not be such a farfetched idea after all...
Adelina Sotnikova (RUS): 60.01 (SP) + 129.80 (FS) = 189.81 (2nd)
As soon as I say Elena Radionova is my favorite Russian lady, Adelina decides to show a glimmer of brilliance and I have to second guess myself. I can't express how excited I was to see her finally keep her nerves together and deliver a clean FS. It's about damn time!
Adelina started out roughly in the SP. She went for the 3Lz-3L again but didn't land it well. She received an
e
on the lutz and a
<<
on the 3L along with -GOE from every judge which left her with only 5.80 points for the combo. Adelina recovered with a very nice 3F before blanking out on her 2A and singling it. The mistake on the axel threw her focus off a bit and caused her to drop some levels on both her layback spin and step sequence (level 3s instead of her usual level 4s). Even with all of the mistakes Adelina managed to finish 3rd in the SP, only 0.02 points out of 2nd place.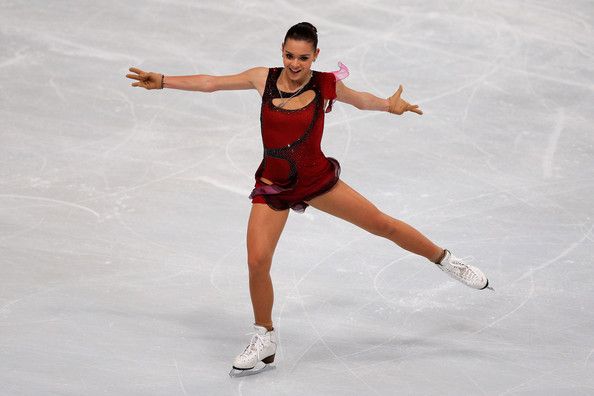 I knew that fight was in there somewhere...
I honestly think getting beat by Anna at COC served as a little wake up call and lit a fire under Adelina's ass. Losing to Anna twice would not look good for her going into nationals next month. For the first time in a very long time Adelina went out and delivered a clean FS. Six triple jumps including a huge 2A-3T and two (yes,
two
!) 3Fs...as a matter of fact Adelina went 3 for 3 with 3Fs at this competition, something she hasn't done in a long time. She had a few minor mistakes here:
e
on her lutz (as expected), level 3s on her layback and step sequence again, and though she hit that second 3F (3F-2T), it was supposed to be a 3-jump combination. Of course these are all small things that can be fixed. Besides what really matters is that Adelina proved to the world and herself that she's good enough to be among the best. She scored 129+ for the FS, earning 64.65 in PCS. I've said it a billion times: if Adelina skates cleanly her PCS will rise, as they should: she has great speed, wonderful flow, beautiful edging, commitment to her music and choreography (no matter how bad it is)...she deserves the marks she received. 64+ is a huge number and places her in that elite second tier of PCS earners with Akiko Suzuki and Ashley Wagner. Adelina is the only one of the "newbies" who has reached that level in PCS and if she can find some consistency, that number will go even higher.
Adelina won the FS and beat out Anna to win her second silver medal on the GP this season, as well as a trip to the Final. I really hope this serves as a turning point for her. Adelina is such an incredible skater but her nerves have always kept her down. I hope she gains some confidence from her performance here and can find that consistency she's been looking for. I'm so proud of her!
Anna Pogorilaya (RUS): 60.03 (SP) + 124.66 = 184.69 (3rd)
I kinda got the sense this competition was a slight showdown between Anna and Adelina. Some comments were made by Anna after Cup of China (whether taken out of context or not) that may have stirred up a little rivalry between the two of them. Whether that was the case or not, both Anna and Adelina battled this one out every step of the way.
Anna opened her SP with a lovely 3Lz-3T which received several +2s from the judges and earned her 11.20 points. She followed that up with a nice 3L. Everything seemed to be sailing along smoothly until her 2A. Like Adelina, Anna spaced out and popped it which resulted in no credit at all. I think that mistake shook her a little because, just like Adelina, she lost levels in her final two elements earning level 3s for her step sequence and layback which usually receive level 4s. Anna bested Adelina in the SP by only 0.02 points, setting the two of them up for a major showdown in the FS to battle for silver.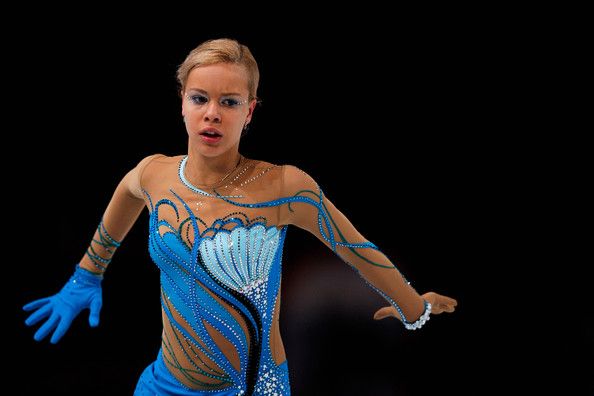 Anna wasn't backin' down for nothin'!
Competition is such a great thing. It really tests who you are as a competitor and brings out the best (or worst) in a skater. Anna took the ice after Adelina posted her personal best FS score. I'm sure she heard the number and knew she needed to be perfect if she wanted to have any hope of catching Adelina. Anna's consistency is definitely going to be her calling card. Come hell or high water, she's going to land those triple jumps. She opened with another beautiful 3Lz-3T and followed it up with a 3L-1L-3S that had
zero
speed. Anna landed the loop a little awkwardly yet somehow managed to eek out the full rotation for that 3S. I'm in awe of her ability to rotate jumps at a standstill...it's incredible! The half loop got hit with a
<
and it wasn't a pretty combination, but she landed it. She followed that up with three more clean and well-executed triples. Anna did pretty much everything she could do in this program...but it wasn't enough. Her technique and jumps are great but at the senior level you need more than just jumps to compete at the very top. Anna beat out Adelina's TES by 0.02 points (the same overall margin in the SP) but Adelina bested Anna by
5.16
points in PCS, a sizeable yet completely justifiable margin, and that's what made the difference. In my opinion, Anna looked extremely pissed at her placement behind Adelina...and that's great! I like that she's unabashedly competitive and wants to win. Unfortunately, she had to settle for 3rd place overall BUT that bronze medal qualified for the GPF ahead of Adelina, if that's any consolation to her.
I like Anna's competitiveness. I can see that she's driven and now that she's had a taste of winning, she's out to get it again. However, she does need to realize she's playing with the big girls now. Landing a ton of triples can win you a gold medal in a field where everyone else is tanking...but if the top skaters are on their game it's going to take more than that to make it to the top of the podium.
As for the rest...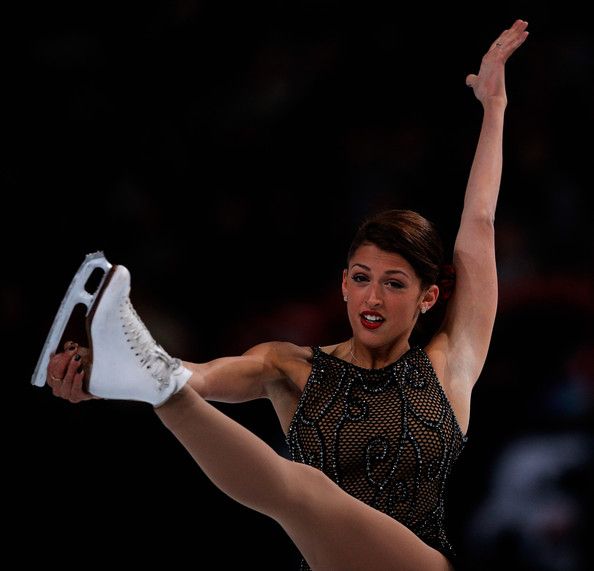 She killed that FS! Love her version of "Carmen"
Samantha Cesario (USA; 4th, 172.70)
has been the most pleasant surprise of the season for me. Even though she's not getting a lot of attention from the judges or media, she has quietly made her mark on the GP this season. She placed 5th at SA and now 4th here, delivering two strong performances and earning personal bests all around. I love her fire and sass and I'm starting to think she could be a darkhorse going into nationals. Out of all of the other senior ladies vying for that third spot, she's the only one to have strong showings at both of her events. Way to go Sammi!
Rocking Prince on home ice...
Mae Berenice Meite (FRA; 5th, 166.11)
turned in two good performances. She hit her 3-3 in both programs (3T-3T in the SP and 3S-3T in the FS) and seems to be maintaining her pacing heading into the second half of the season. I loved how excited the crowd was to see her perform and it was great to see her hold up under that pressure and give them what they came to see.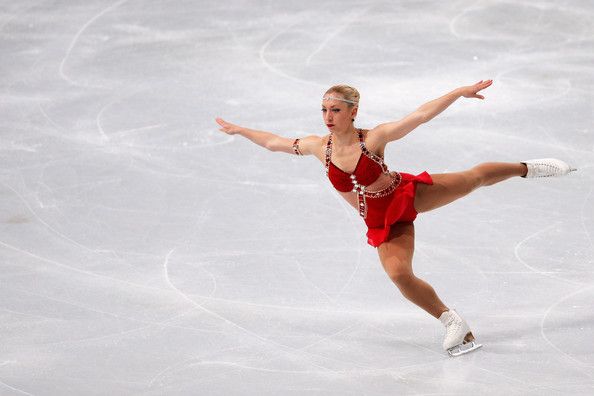 Still searching...
Amelie Lacoste (CAN; 6th, 158.11)
is doing more of the same...not much. She wasn't able to match her Skate Canada scores but she didn't drop off too badly. There's a big question mark over the Canadian ladies right now. Kaetlyn is injured though no one knows how badly and Amelie doesn't appear to be making that much progress this season. I wonder if they will be able to entice Joannie to come out of retirement to compete in Sochi?
Still don't like the dress but yay!, no gloves!
Viktoria Helgesson (SWE; 7th, 153.27)
wasn't impressive here. She had multiple mistakes in both programs but I was very happy to see she ditched those ugly black gloves in the SP...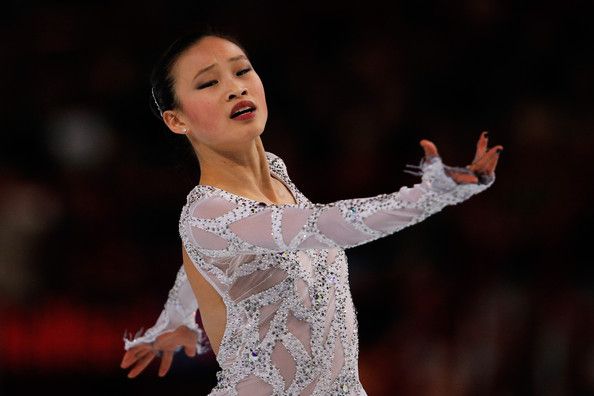 What happened?
Christina Gao (USA; 8th, 152.85)
was very disappointing here. She did so well at Skate Canada so to see her basically bottom out here was really sad. Her SP wasn't excellent but it wasn't a disaster either. The 3T-3T was solid, though she did get hit with
<
on her 3L...still she was right where she needed to be to finish in the top 4 heading into the FS. It was so sad to see her unravel like that. With the exception of her 2A, everything that could go wrong went wrong: two falls, under-rotations, an edge call, doubled and popped jumps, step outs...it was an
unmitigated disaster
. I have no idea what happened to her. Coming in Christina looked the most promising of all of the senior ladies vying for that third spot. This competition just knocked her down the ladder to the bottom with rest of the disappointments...*sigh*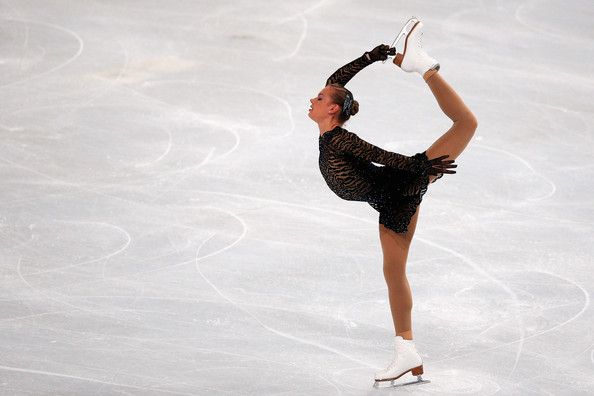 I totally dig that dress...
Natalia Popova (UKR; 9th, 136.43)
still has a lot of work to do before she'll be ready to compete at this level. She struggled in both programs, placing last in each segment and overall.
Boy, did that fly by! Just like that, the Grand Prix season is down to just one event. The sixth and final event of the season will be this week's
Rostelecom Cup
, better known as Cup of Russia. Here we'll see
Julia Lipnitskaya of Russia
go for her second gold medal against
Carolina Kostner of Italy
who will need gold along with a big score to make it into the Final. We'll also see
Elizaveta Tuktamysheva and Nikol Gosviani of Russia
;
Kanako Murakami, Haruka Imai and Satoko Miyahara of Japan
; and
Mirai Nagasu and Agnes Zawadzki of the United States
.