The second event of the season, Skate Canada, once again had a young Russian squaring off against a top American. The skating was a different but, ultimately, the outcome was mostly the same.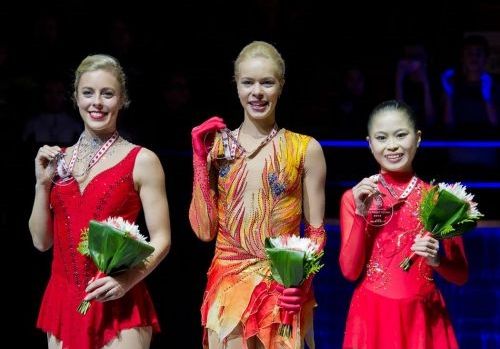 Russia is 2 for 2 so far...
Final results
Coming in as roughly the #4 ranked Russian skater, Anna knew if she wanted to maintain/improve her positioning in the hierarchy of Russian threats, she needed to deliver.
Anna's SP was...a lot. Okay, so the jumps were decent: the 3Lz-3T was solid (even though she landed a little heavily on the first jump), the 3L was great and the 2A was wonky but completed. The spins, while not the most appealing in terms of aesthetics, were okay as well...but the program was just too much. I saw some improvements in Anna's slower movements at the beginning; she gives them a little more feeling and attention than last season and that's great. However, Anna chose to skate to "Adagio" by Laura Fabian. It's a beautiful but extremely powerful ballad--Anna can't match it. The song ran over her performance like a freight train. She attempted to keep up with the power of the music but she lacks the polish and control needed to make it work. Even though the performance was frantic and a bit sloppy in my opinion, Anna's high TES helped her win the SP and go into the FS with a small lead.
Anna's consistency is a major asset and will help her land at the top (or near the top) of the podium every time. However, if she wants to compete with the top Russians, she's going to have to clean up her sloppy skating and bring more life and performance to her skating.
It's been a long time since Ashley has competed without some kind of chip on her shoulder. Her awful debut at Japan Open was still hanging over her head when she took the ice in Canada...
Satoko is the go-to girl for Japan now that nearly all of the top veterans are absent. With so few elite Japanese senior ladies in the field, Satoko is responsible for carrying the torch and keeping Japan relevant on the world stage.
As much as I love Satoko's skating it appears the judges are going to take a little longer to warm up to her. She really needs to work on rotating her jumps fully and skating bigger. If she can't manage that I don't think she's ever going to get the credit she deserves from the judges.
As for the rest...