At first I figured they should've renamed this competition
Splatfest 2014
...it was that bad! Luckily by the end a few skaters were able to step up and save the competition from being a total waste of time.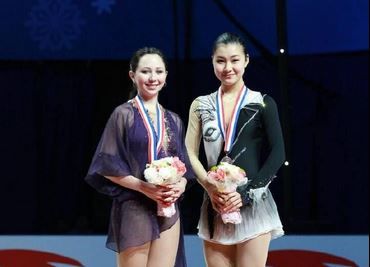 Apparently Julia missed the ceremony...hmmm
The final results: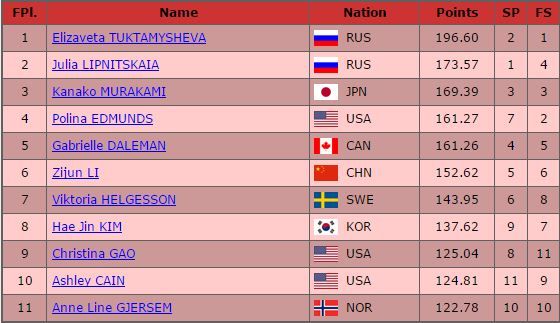 Elizaveta Tuktamysheva (RUS): 67.99 (SP) + 128.61 (FS) = 196.60 (1st)
Liza T is the hardest working woman in the ladies field this year. Cup of China marks her fifth competition of the season. Call her the Energizer Bunny cause she's still going!
Liza T's "Bolero" SP was excellent. Again, this program just works for her. Liza T did a good job of building up the program and really selling it to the audience. Her jumps were gorgeous: 3T-3T, 3Lz, tano-2A...all perfectly clean and all received good GOE from the judges (nearly all +2s and even a few +3s on the combo). Her PCS in the segment were right on Julia's heels which is a great accomplishment. In so many cases there's a skater who has the technical goods but lacks the PCS advantage to compete at the top. Liza T's strong skating this season has earned her the PCS she needs to really challenge for gold. She placed 2nd in the SP, only 1.57 points out of first place.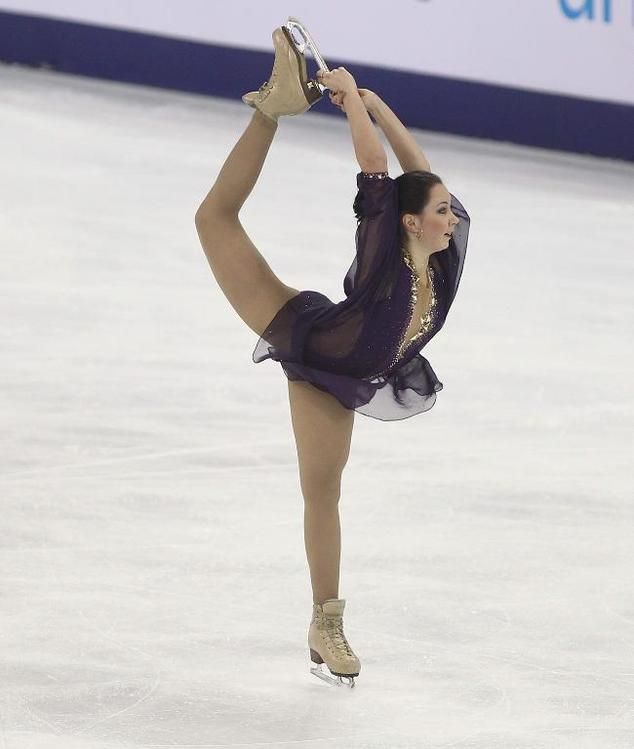 Liza T is back on top
If there is one person making a convincing claim for the top position this year, it's Liza T. She struggled in the FS at Skate America prompting some to believe she was a bit burnt out after competing so much in such a small span of time. Well her performance in the FS here proved that she is not burnt out...she's on
FIYAH
!
Seriously, Liza T is impressing the hell outta me this season. Her only mistake in this FS was a doubled lutz at the beginning of the program. Everything else was spot on: 6 triples total including a 3T-3T. I do wish she'd move that 3-3 to a few seconds later in the program; she's cheating herself out of the bonus points. Regardless, Liza T performed with energy and pizazz and, as always, sold her program like a pro. She easily won the FS and posted a personal best score of 196.60, winning the gold medal by more than 23 points!
I'm so proud of Elizaveta. She's gone through a lot these past few years. To see her bounce back and make it all the way back to the top of the podium when so many had written her off at the end of last season is a testament to her determination and hard work. With this gold medal and her silver from Skate America, Liza T is the first skater to qualify for a spot in the Grand Prix Final.
Julia Lipnitskaya (RUS): 69.56 (SP) + 104.01 (FS) = 173.57 (2nd)
We hadn't seen much of Julia prior to her showing up here. I didn't really know what to expect from her coming in. Needless to say I was a little shocked with the outcome...
I don't know how to feel about this "Megalopolis" SP. Apparently, she's portraying some little girl in a city and then there's something about a balloon or kite or whatever...I just think the "little girl" angle was played (and played well) last season, so it's time to move on. Most skaters who look very young make an effort to look more mature on the ice; Julia is doing the opposite. I'm not really feeling the overall packaging. I love the music, the program itself is decent, but the "Where's Waldo?" dress, pigtails and the confused over-the-boots tights just don't paint a striking/commanding presence on the ice. Aside from the packaging, I can't say I see much growth in Julia's skating in terms of her connecting with the music. It was mostly her going through the motions, which may have been because she was
admittedly nervous
. Maybe that's why the performance part of the program suffered. Thankfully all of the technical aspects were firing on all cylinders. Julia's 3Lz-3T has been replaced with a 3T-3T in light of the new/harsher edge call rules. She frequently got dinged on her lutz so rather than risk it, she scrapped it entirely. Her 3F was nice, the 2A was microscopic but speedy, her spins were well-centered...it was a good debut. Julia won the SP and went into the FS with a 1.57 point lead.
I'm not too sure if Julia was unprepared or if it was just a really off night for her, but this performance of "Romeo & Juliet" was a disaster. Julia opened up well with a nice 2A-3T-2T but then fell on her 3S. Though her step sequence only received a level 2 (I think the callers were hella strict here) she followed it up with a slightly shaky 3L...and then everything went down hill: a doubled triple, two popped jumps, and a downgrade/fall. Yeah, it was a disaster. Julia looked a bit dazed out there on the ice like even she didn't know what the hell was going on. The program itself is pretty
meh
. I'm sure the mistakes took her out of the performance but, in terms of the performance she
did
give, it was very stony and detached. I saw growth in her last year when it came to her relating to the music but, as some suspected, that might have just been clever choreography that played to Julia's natural style of skating. It's possible that a clean performance could elevate this program but, as of now, I'm not that impressed with the program as a whole. Julia finished 4th in the FS but, thanks to her big lead over the rest of the field in the SP, she was able to hang on and win silver.
Unlike certain skaters who are perfectly happy to take a silver medal despite skating crappily, I know Julia is pissed with herself for skating so poorly. That's one of the things I love about her. This was not the way she wanted to debut this season, but hopefully she'll come back stronger at her next event.
Kanako Murakami (JPN): 60.44 (SP) + 108.95 (FS) = 169.39 (3rd)
There's been a lot of talk that Satoko Miyahara has already taken over that top spot in Japan, even though Kanako is the reigning Japanese silver medalist. This debut event was Kanako's chance to stake her claim for that number one spot.
Kanako choice to use "Phantom of the Opera" for her SP (and FS) this year is a very ill-timed decision because everyone else seems to be skating to the same thing. However, that said, I really enjoyed her performance in the SP. Overall I am not a fan of adding lyrics to the music this season, but Kanako's program is a good example of using lyrics effectively in a competitive program. I don't really like her dress. There's too much mesh fabric, the color is a little dull on her and I just think she should have borrowed one of Akiko's gorgeous POTO dresses from last season. Kanako's opening 3T-3T was big and easy but she lost several points on her 3F(step out and
<
) and level 2 step sequence. Still, her use of the music (in particular her ending layback spin) and delivery of the program was my favorite of the segment. The loss of points hurt her score but had her solidly in 3rd place heading into the FS.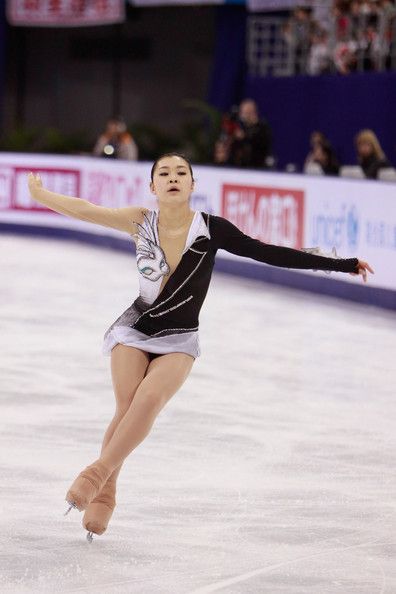 No, just no
As much as I really loved Kanako's SP is how much I hate her "POTO" FS. The music edit is terrible. It's just this cacophony of vocals and noise...it does not play well over the arena speakers/television speakers. Her dress is very confused; it doesn't know if it wants to be a dress or a tux. I just don't care for the program at all. That said, she had a decent performance here. Kanako started off roughly, under-rotating her opening 3L and then popping open what was supposed to be a 2A-3T (1A-1T). She eventually got it back together though she did lose points on another under-rotation in her 3-jump combo as well as a lower level step sequence (only level 2...really strict caller). I didn't particularly enjoy the performance but, lucky for Kanako, it was good enough for 3rd place in the segment and 3rd place overall.
This was a solid debut for Kanako but she has a lot of work to do if she hopes to win the Japanese national title this year. She's going to need to increase her technical content in the FS and work really hard to fix her under-rotation issues. She usually gets better as the season progresses so we'll have to see what happens.
As for the rest...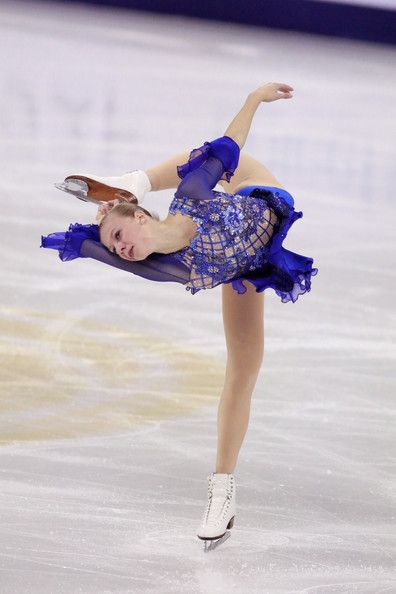 Not the debut we were hoping for...
Polina Edmunds (USA; 161.27, 4th):
So many had been hoping Polina would be that one American skater who could go head-to-head or at least challenge the Russians...but she took herself out of the running early here. Polina went down on her opening lutz, didn't complete the combo and then only received level 1 for her step sequence. I will say the packaging of her SP is very nice; loved the dress, music and choreography. Luckily Polina bounced back with a valiant effort in the FS. She lost several points on edge calls (both 3Fs got hit), an under-rotation, a time violation and she lost several levels on her step sequence (again only level 1). I'm not 100% sure but my guess is her circular pattern wasn't big enough in her step sequence. That's something she really needs to work on because that's the highlight of her program...and the judges really liked it too (mostly +2s). I'm not a fan of her FS look (I don't like the dress or her hair) but the program is pleasant. Polina was able to place 2nd in the FS and move up from 7th to finish 4th in her first GP event.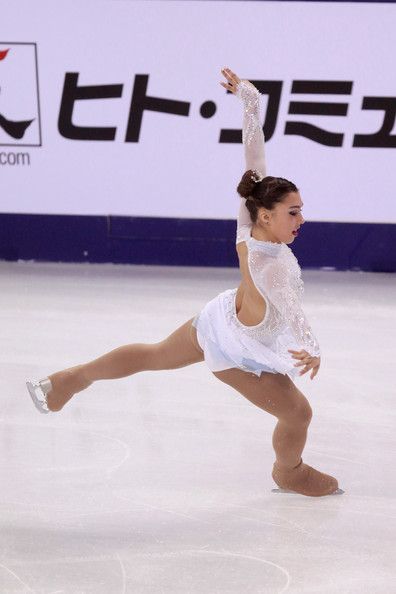 Slowly but surely, she's coming along...
Gabrielle Daleman (CAN; 161.26, 5th):
It was great to see her come out and nail her SP. Gabrielle is such a powerful jumper but, oftentimes, that power gets away from her and she can't control her jumps. She was able to keep her power in check and deliver one of only a handful of clean performances in the SP. Gabrielle struggled a little bit in the FS but, overall, she gave a much stronger FS performance than I'm used to seeing from her. She still lacks refinement and polish (like so many of the young skaters do) but if she can keep her jumps under control, her chances of moving up will be pretty good.
-3 for those damn gloves
Zijun Li (CHN; 152.62, 6th):
Zijun really has the potential to be a contender in this new field of ladies but she doesn't seem to be progressing much. Her SP wasn't that great: she nailed her 3F-3T and then went down on her 3L. I really love her light and lyrical style but I'm sick of seeing her skate to the same classical warhorses. Therefore it was nice to see Zijun depart from those warhorses and skate her FS to "Moon River" (another popular music choice this season). Zijun started off her FS really well (3F-3T, 2A-3T) but lost points on an edge call (3Lz), under-rotation (3S) and downgrade (3F) as well as several lower level elements. She did her flying camel spin and choreographic sequence with yawn...or at least that was what it seemed like. Neither element was performed with any kind of purpose or effort even. I don't know if she was winded, bored or what, but that was not a strong way to end the program.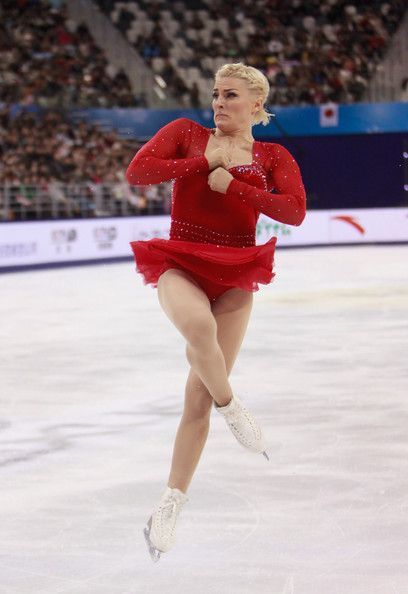 Bring on the next Helgesson sister
Viktoria Helgesson (SWE; 143.95, 7th):
Viktoria managed to keep her dress on in the SP so I'd consider that a victory in itself. I really can't stand her SP. The music is too whiny and, what's worse, she doesn't pay any attention to it. I'm not that big of a fan of her FS either. It's decent but, I don't know...I don't know what's going on with Viktoria lately. We'll have to see if her sister Joshi can do any better next week.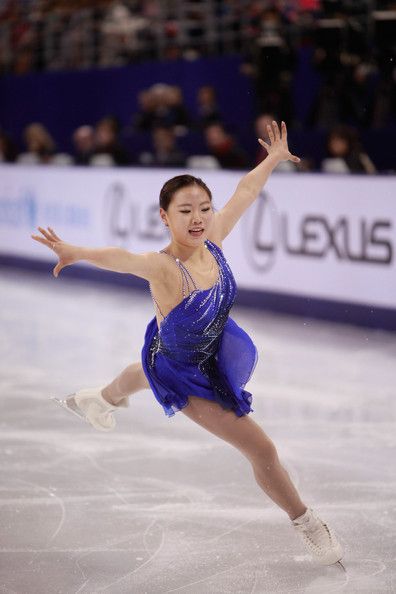 Not quite enough
Hae Jin Kim (KOR; 137.62, 8th):
How much do I love that SP dress? I really love it. Hae Jin is a lovely and expressive skater but she has major issues when it comes to landing her jumps. In the SP her 3Lz was hit with an under-rotation and a "
!
" plus she
ate it
on a wild waxel. That fall looked
really
painful. Hae Jin had a better showing in the FS but she's still not bringing enough to the table. In order to get into that top tier of competitors she's going to need a lot more than what she's delivered so far this season.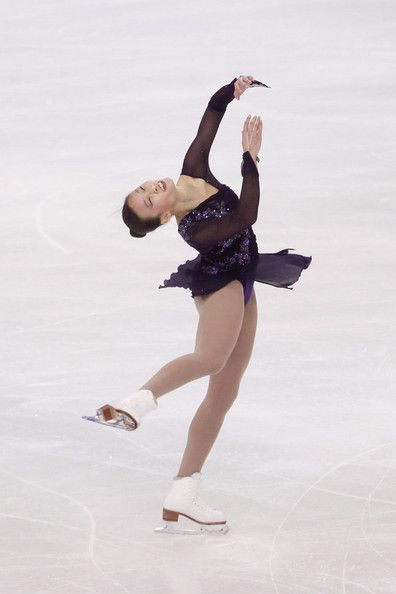 Where does she go from here?
Christina Gao (USA; 125.04, 9th):
I thought her performance in the SP was very pleasant but even though she was one of the few to stay on her feet, she received downgrades on the second 3T of her 3T-3T combo as well as a downgrade on her solo 3L. Several popped jumps and low level elements left her in last place in the FS but luckily her SP was enough to keep her off of the bottom overall. I'm not sure what Christina's goals are this year but I doubt she came here expecting this kind of performance.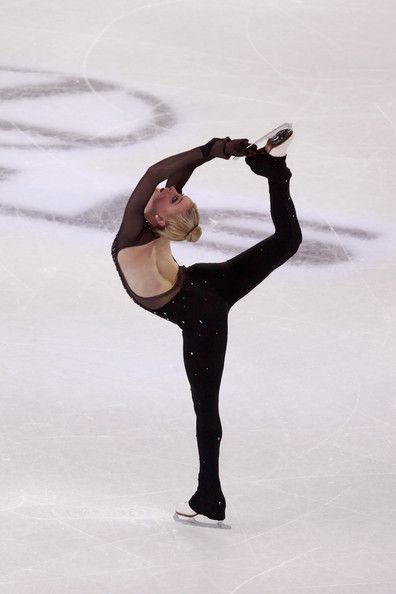 She rocked that unitard!
Ashley Cain (USA; 124.81, 10th):
Ashley had a rough warm up in the SP and her troubles carried over to the actual performance. I thought she looked amazing in her bedazzled unitard and her program was nice as well...but none of the jumps worked for her. Her technical issues followed her into the FS: multiple under-rotations and only one clean triple jump. Definitely not the GP debut she wanted.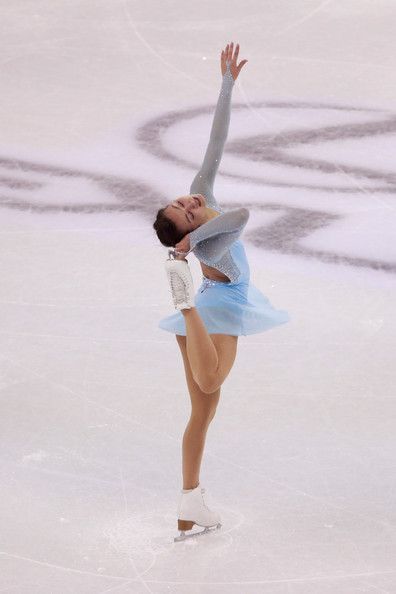 Yay, go Norway!
Anne Line Gjersem (NOR; 122.78, 11th):
Anne is a beautiful girl and I think she has a lovely style of skating but her SP was just a rushed mess. It was another example of lyrics doing nothing for a program. She just couldn't seem to get her feet under her in the FS and did not have a great skate.
We've reached the halfway point of the Grand Prix season. This week the series travels to Moscow Russia for
Rostelecom Cup
. This was supposed to be the season debut of Olympic champion
Adelina Sotnikova (RUS),
however
she has withdrawn
from the event citing an ankle injury...that same injury she's been battling for the last few months. Now the headliner for this event will be
Anna Pogorilaya (RUS)
fresh off of her Skate Canada win. We'll also see
So Youn Park (KOR), Mirai Nagasu (USA), Rika Hongo (JPN), Alaine Chartrand (CAN), Miyabi Oba (JPN), Maria Artemyeva (RUS), Angela Wang (USA), Maria Stavitskaya (RUS), Eliska Brezinova (CZE), Joshi Helgesson (SWE)
and
Ashley Cain (USA)
.
This one should be an easy one to call but, sometimes the ice is slippery.
Who do you think will win Rostelecom Cup?
Make sure to vote on the poll!