After last week's disappointing competition, I could hardly wait to see what the ladies at Trophee Eric Bompard had in store. The level of competition was higher than last week but it wasn't the throw-down I expected it to be.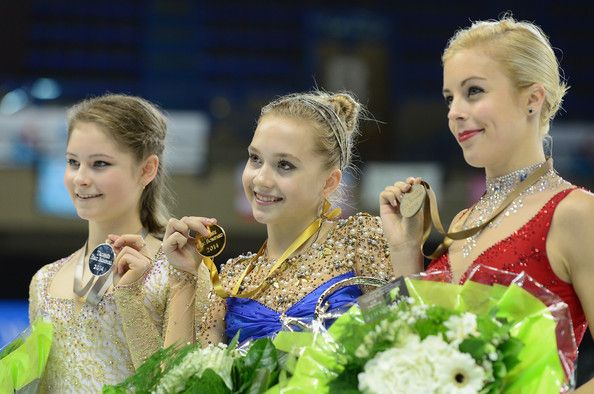 The Russians are back on top
The final results: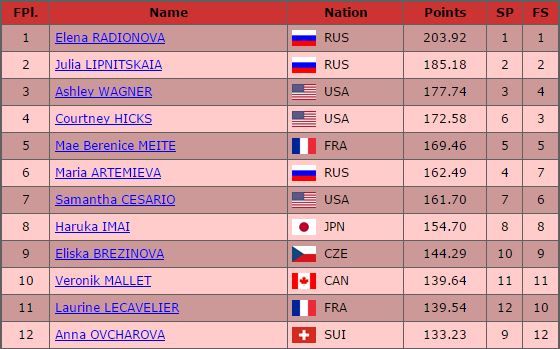 Elena Radionova (RUS): 67.28 (SP) + 136.64 (FS) = 203.92 (1st)
Elena has been rolling along quite nicely this season and even with Julia Lipnitskaya in the field, after Elena's strong performances at Skate America, everyone figured she was the one to beat in Bordeaux.
Elena did not disappoint in her SP. There are so many things about Elena's skating that need work (posture, line, those shoulders, etc.), but when she performs it's like everything that's wrong with her disappears and I just enjoy her performance. There's something magnetic about her when she's on the ice that draws people in. It also doesn't suck that she's a little technical powerhouse. Her 3Lz-3T was clean and easy as were the rest of her jumps. Level 4 spins, level 3 footwork...She sashayed her way through that Latin/JLo/flamenco mix and the audience and judges loved it. Elena's PCS increased here, as they often do when skaters consistently perform well, and thanks to her high TES (highest of the segment) she finished the SP with a small lead.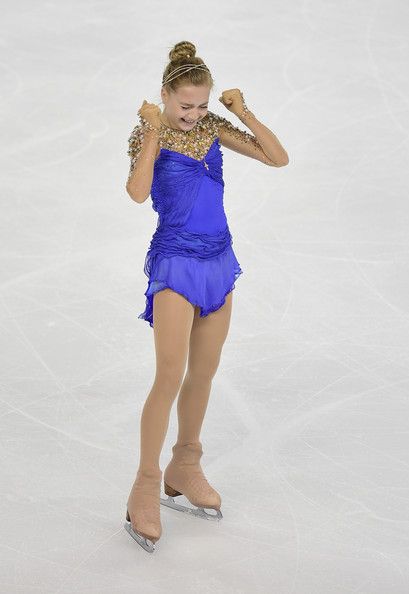 Nailed it for the third time in a row!
Skating last is never easy and sometimes it can cause even the toughest of competitors to be a little nervous...well, that wasn't the case here. With the gold medal there for the taking, Elena came out and delivered 100%. I'm so impressed with her mental toughness and focus. She is
killing it
so far this year! Elena nailed each one of her 7 triples (including 3Lz-3T and 3L-1L-3S) as if it was the easiest thing in the world. Her only minor mistake was a somewhat tight landing on her final 3L-2T but the jump was still fully rotated and clean. Elena performed with energy and passion and completely ran away with this event. It wasn't even close. Her TES of 71.43 is the highest of the season and her PCS of 65.21 is somewhat high but completely justifiable (in my opinion). Additionally, higher PCS are totally expected in a situation like this. Elena skated last and she skated cleanly...that usually equals a boost in scores across the board especially when the rest of the competition skates poorly. Elena won this one by a landslide (18+ points), earning her second gold of the season and qualifying her for the Grand Prix Final next month.
Say what you will about Elena's high shoulders, wobbly legs, tacky programs, lack of maturity and whatever else...none of it matters because in the end, she's getting it done. None of her wins have been undeserved; she is consistently delivering and the others are not. Plain and simple. Until the older more polished and mature girls can get their shit together, start landing their jumps and selling their programs, I'm perfectly fine with the little girl winning everything.
Julia Lipnitskaya (RUS): 66.79 (SP) + 118.39 (FS) = 185.18 (2nd)
Julia's uncharacteristic meltdown in the FS at Cup of China had a lot of people concerned about her. Are her jumps failing her? Is she still suffering the burn out from last season? Many people were wondering how well she'd do here...
Julia was able to quell some of the fears people had about her skating by delivering a very strong SP. I'm still not feeling her packaging (Waldo shirt and pigtails) but I think she did an even better job of performing her "Megalopolis" SP here. She looked really calm and comfortable and the program flowed very easily. Julia's 3T-3T was strong and received 1.40 points in +GOE. She did lose a little bit on her 3F (0.40) but the rest of her skating was strong. Judging by the TES counter at the end of her performance, I was sure Julia would go into 1st place; shockingly, she did not. She lost roughly 2 points from that TES total and ended up finishing only 0.49 behind Elena, setting up a major showdown in the FS.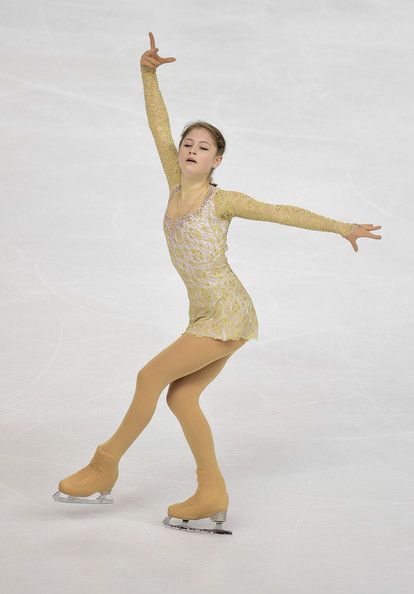 Where is BEAST MODE Julia?
Usually when Julia has a rough skate at one competition, she comes back determined to skate amazingly in her next event. Her FS here started off just like that. She opened with a 2A-3T-2T and 2A-3T and looked to be back on track...until the second half of the program. It wasn't nearly as bad as Cup of China but it wasn't good and it wasn't what people have come to expect from Julia. She doubled a 3L, fell and got downgraded on a 3F, and under-rotated her 3Lz(
!
). I did like her new dress for the FS but the program itself is still lacking quite a bit for me. She performed it better here but it still feels really blah. It has none of the magic that her "Schindler's List" FS from last season had. Overall the FS was a step up for Julia but nowhere near close to what she needed to put pressure on Elena to perform. In the end she ended up placing 2nd in the FS and second overall, earning herself another silver medal and securing herself a trip the the Final.
Julia is struggling this year. I'm not sure if it's growing pains, boot problems, burn out from last season...whatever it is, she's struggling. There's something missing from her skating this year. Hopefully she'll get some rest before the Final...she's going to need to be 100% to face off against Elena and Elizaveta Tuktamysheva in Barcelona.
Ashley Wagner (USA): 61.35 (SP) + 111.11 (FS) = 187.21 (3rd)
Despite people's insistence that Ashley needs to "move on," she came into this event (once again) as the #1 USA lady of the season so far. However, facing off against two Russians would be a very tall order for anyone to handle...
Ashley is sticking to her guns about going for that 3F-3T even though she hasn't had one ratified since the GPF last season. During the warm-up she landed (what looked like) a very nice 3F-3T so I figured she had a shot of nailing it in the program. Alas, no. She went for it and while it was not as obviously under-rotated as her combo at Skate Canada, it was very iffy. Ashley finished out the rest of her "Spartacus" program cleanly but I knew there was a good chance she'd left a few points on the ice. Turns out she left quite a few points on the ice: two under-rotations (3F-3T(
<
) and 3L(
<
)), two level 3 spins, level 3 footwork and only level 2 on the layback. At Skate America she under-rotated those same two jumps but she managed to maximize all of her non-jump elements (level 4s on everything). Losing those points hurt her score and left her in 3rd place, several points behind the other two. Even with the mistakes Ashley earned the highest PCS of the segment (good job judges) which is a major plus for her.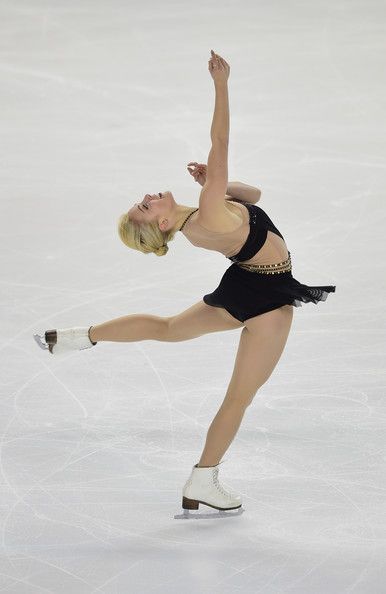 Keep on fighting Diva Wagner
I'm still not feeling this "Moulin Rouge" FS from Ashley. I get the direction she is trying to go in the performance but I feel like the program is missing something. There's still a lot of stroking around with a lack of in-betweens which diminishes the program somewhat for me. Luckily, Ashley turned in a fairly decent performance here. She did have a fall on a 3F at the beginning of the program but she rebounded well and ended up completing 5 triples overall. The biggest surprise was the very ballsy 3Lz-3T Ashley attempted at the end of the program. She landed the lutz (dinged with "
!
") but received a downgrade on the 3T. Even though it was a bit of a failed attempt I really admire the fact that she's trying to do something to elevate her game. Interestingly, when Ashley got off of the ice the TES counter was at about 47+...yet when the scores came up that number jumped all the way to 54+. I don't ever think I've seen the TES jump that high after a skate...I'd be very interested in how that happened, but I'm sure Ashley's thriled about it. She finished 4th in the FS and 3rd overall to earn her second bronze medal of the series.
Currently, Ashley has a spot in the Final; however, whether or not she keeps it will be determined by the outcome of this week's final event. Ashley still has a long way to go to catch up to the Russians but for now, at least she's managing to keep herself in the race.
As for the rest...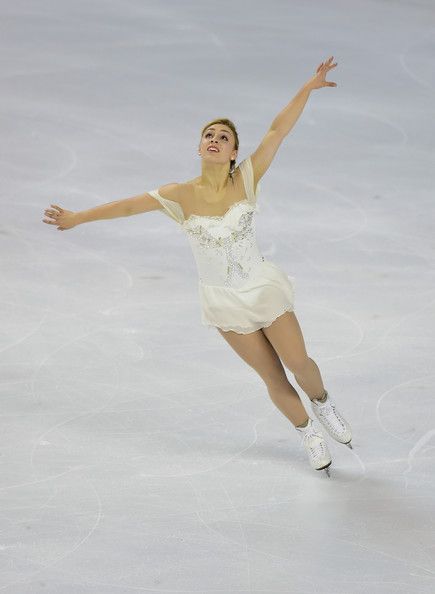 Working her way up...
Courtney Hicks (USA; 172.58, 4th):
Courtney has been improving a lot this season but she's still working on her consistency. She ran into trouble in the SP (doubled the 3T in her combo and fell on the 3Lz) and finished in 6th place. Thankfully she pulled herself together in the FS and delivered her strongest performances of the season which included 6 triple jumps. She placed 3rd in the FS and moved up to finish 4th overall.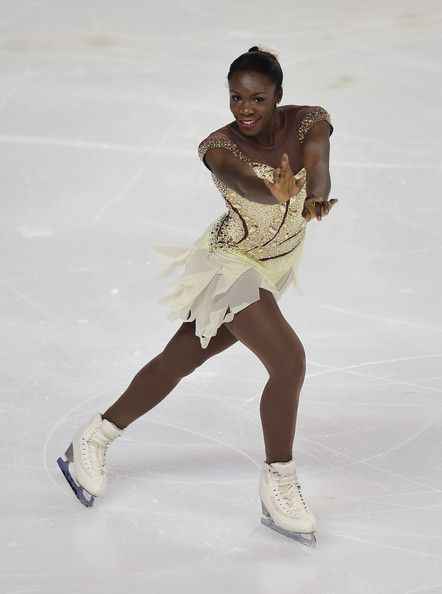 Excellent performances in both programs
Mae Berenice Meite (FRA; 169.46, 5th):
It was great to see Mae deliver such a strong SP in front of a home crowd. Everything seemed to be working: her 3T-3T was lovely, the 3Lz was solid and she really sold the program. Mae struggled in her FS at Skate America and seemed determined not to have a repeat performance. Mission accomplished! She turned in a clean 7 triple performance which included a 3S-3T and 2A-3T. I think she was rather under-scored here compared to the rest of the field. Mae was the only skater other than Elena to complete 7 clean triples, yet she only scored 111+.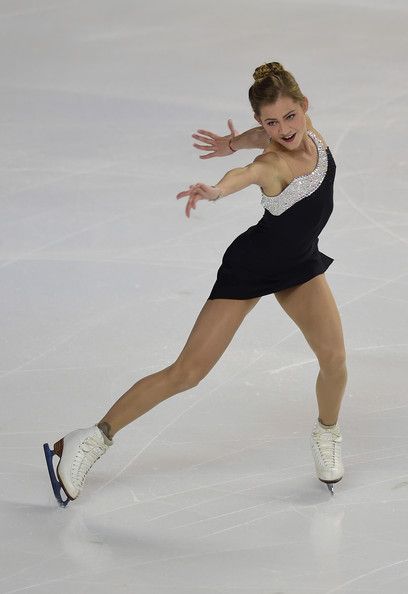 Over-scored in the FS
Maria Artemieva (RUS; 162.49, 6th):
I think with a bit more experience Maria could be a contender for Russia. She does a good job of performing and she has enough content to be competitive. Her SP was solid and left her in 4th place. Unfortunately she imploded in the FS, falling three times and erasing any chance she had at a top 5 finish. I'm not sure what was with Maria's FS costume but I did not approve. Wearing a man's white button-down shirt with hot shorts while skating to Chopin? Uh-uh, sweetie. That's a skating no-no. Even with her disaster of a FS Maria managed to earn 56+ in PCS (I call
bullshit
on that) and finish in 6th overall.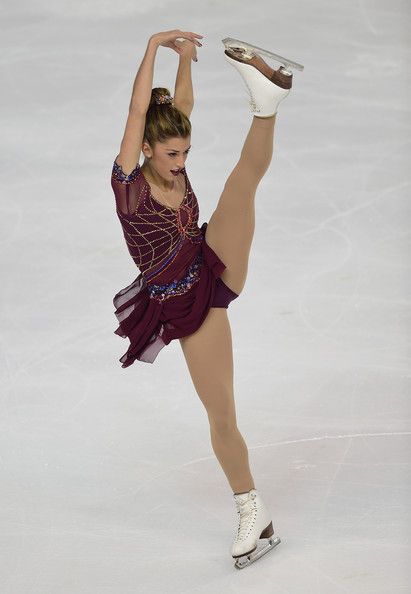 We need #SammiFierce back!
Samantha Cesario (USA; 161.70, 7th):
She's been so solid for so long, it's kinda weird to see her miss something. Samantha opened up on the second jump of her 3F-3L (only a double). It seemed like that kinda took the wind out of her sails. The rest of the program was solid (edge call on the lutz) but it just didn't seem to have the fire she usually has. Samantha had a decent FS (one under-rotation and an edge call) but, again, the fire was missing. Hopefully Samantha will get back to being Sammi Fierce by the time nationals rolls around.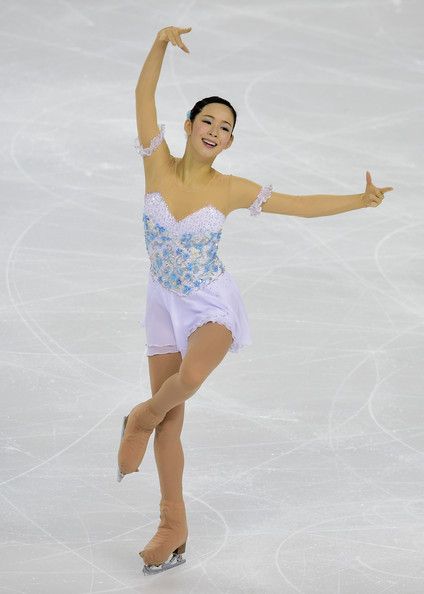 Keeping my fingers crossed
Haruka Imai (JPN; 154.70, 8th):
I was so disappointed in her SP. She'd nailed all of her jumps perfectly and was on her way to a clean performance and then,
kersplat
! She fell on her face in the footwork about 20 seconds from being finished. Haruka delivered a stronger FS but still had issues. An under-rotation, a popped jump and zero credit for her step sequence really hurt her score.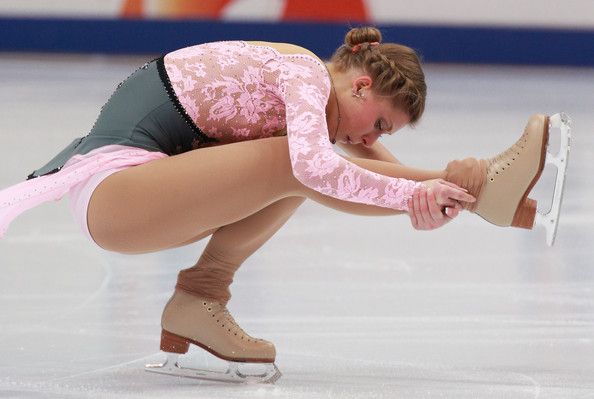 Better than last week
Eliska Brezinova (CZE; 144.29, 9th):
Eliska struggled a bit through the SP, losing points on both her combination and solo jump. She had a better FS (one fall) and was able to move up from 10th place to finish 9th overall. Eliska improved on last week's Cup of Russia total by more than 10 points.
Not as strong this time
Veronik Mallet (CAN; 139.64, 10th):
Veronik was pretty strong in the SP at Skate Canada earlier in the season but she seemed to be a little off here. Two falls left in 10th place after the SP. A fall, an edge call and two doubled jumps really hurt her score in the FS. She finished 11th in the FS and 10th overall.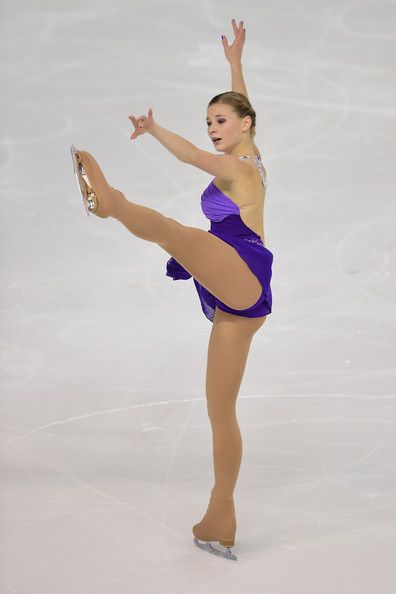 She has artistic potential
Laurine Lecavelier (FRA; 139.54, 11th):
I don't recall watching Laurine before this but I do think she's someone to keep an eye on. Her SP was terrible from a technical standpoint, but I think the program itself had some potential. Laurine's FS was a little messy overall (one fall, lots of -GOE) but she was able to pull herself out of last place by finishing 10th in the FS which left her 11th overall.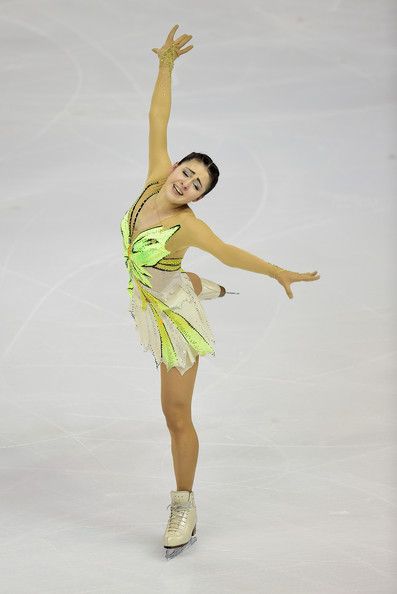 Too many downgrades
Anna Ovcharova (SUI; 133.23, 12th):
Anna had a solid SP though she did lose some points on the combination (3Lz(
<
)-2T). Multiple downgrades and low content kept hurt Anna's score and left her in last place in the FS and overall.
And just like that, we're down to the final event of the season!
NHK Trophy
takes place in Osaka, Japan and will be a deciding factor when it comes to the Grand Prix Final.
Adelina Sotnikova (RUS)
was supposed to co-headline this event with
Gracie Gold (USA)
but with her out, Gracie is the leading name at this event. Hot on her heels, however, will be hometown favorites
Satoko Miyahara (JPN)
and
Kanako Murakami (JPN)
as well as potential spoilers
Alena Leonova (RUS)
and
Polina Edmunds (USA)
. We'll also see
Zijun Li (CHN), Gabrielle Daleman (CAN), Elene Gedevanishvili (GEO), Christina Gao (USA), Riona Kato (JPN), Anne Line Gjersem (NOR)
and
Anna Ovcharova (SUI)
. For Gracie, Satoko and Kanako, whoever wins this event automatically qualifies for the Final. This should be good!
Last event of the season!
Who will win gold at NHK Trophy?
Make sure to vote on the poll!