If there was one competition on the Grand Prix this season that should have been easy to call, it was Rostelecom Cup (aka Cup of Russia). Boy, were we wrong...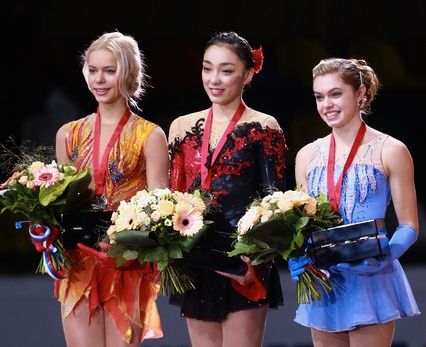 The Russian reign of the GP ends...
The final results: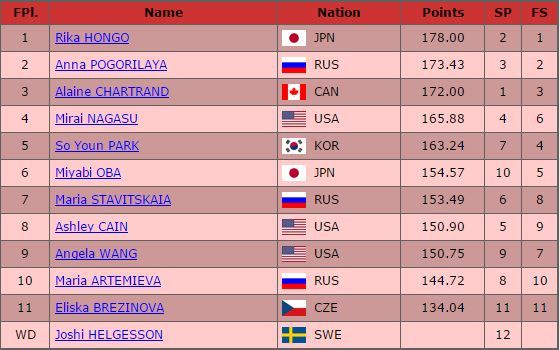 Rika Hongo (JPN): 59.85 (SP) + 118.15 (FS) = 178.00 (1st)
In a competition where there aren't many front-runners the event becomes a free-for-all. I don't think many had Rika penciled in for a medal here, let alone gold.
Rika started off the competition with a strong SP. I noticed at her first event (Skate Canada) that she appears to be a little more focused and comfortable on the ice this season. Now her competitive side is beginning to emerge and that's great news for Japan. Rika opened her program with a big 3T-3T. She has really nice power and spring to her jumps and now that she's landing them consistently, I can appreciate it much more. Rika isn't the strongest when it comes to performing but she did make an effort to bring energy and personality to her performance to "Le Corsaire" and I appreciated that as well. The rest of the program sailed along smoothly and Rika earned a season's best score. She went into the FS only 1.33 points out of 1st place.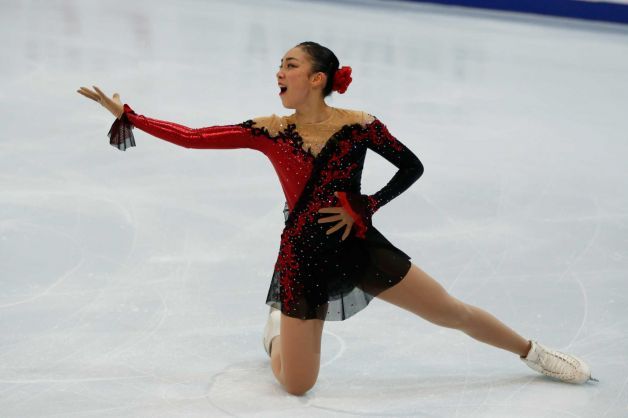 Way to step it up!
I knew that Rika had a shot at winning by the time she took the ice for her FS. Anna had already skated her FS and her numbers were not insurmountable. Rika had a good FS at Skate Canada and scored 112+ so I knew if she delivered, there was a chance she could outscore Anna. I have to say I was very impressed with her "Carmen" performance. It takes a lot of focus and mental toughness to keep yourself calm and go out there and just skate when you know the gold medal is on the line. Some skaters clam up but some rise to the occasion. Rika rose and it took her straight to the top of the podium. She wasn't perfect: two under-rotations (3F-3T(
<
), 2A-1L-3S(
<
)) and one edge call (3Lz), but no major or glaring errors. In the end Rika won the FS and shocked everyone by winning the gold medal, her first ever GP medal.
Rika had two strong skates here but the reality is even though she did well, it wouldn't have won in a more competitive field. However, she's proven that she can be a strong competitor and that counts for a lot. If she keeps improving and skating consistently her scores will continue to go up.
Anna Pogorilya (RUS): 59.32 (SP) + 114.11 (FS) = 173.43 (2nd)
Historically, Cup of Russia has not been kind to its nation's skaters. Aside from Julia Lipnitskaya's
bogus
win last season, a Russian hasn't won the title since Irina Slutskaya back in 2005. With Adelina Sotnikova out, most figured that even with the bad juju this event brings for the Russian ladies, Anna Pogorilaya had this one in the bag...
Alas, no. This competition was a bit of a train wreck for Anna. She looked tight and nervous from the beginning of her SP and it showed in her skating. She was supposed to open with a 3Lz-3T but landed too far forward on the 3Lz and decided not to try the second jump. She recovered with a 3L-2T but spun out on the landing before adding the 2T (-1.30). As sloppy as the program was, Anna still managed to score 59+ which kept her right in the mix with the gaggle of skaters crammed in 1st through 5th place. Even though she didn't impress in the SP, I just knew Anna was going to come back ready in the FS.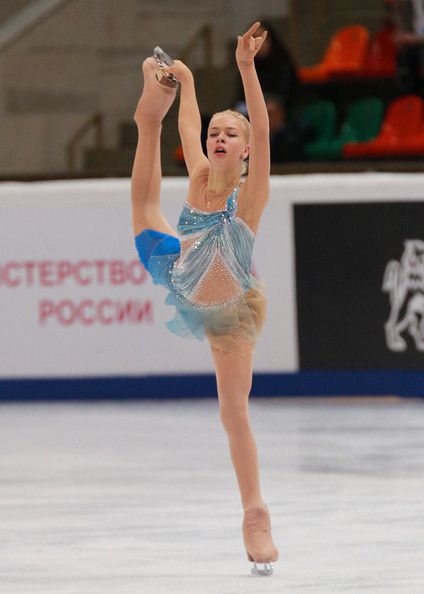 Really dropped the ball with this one...
Alas, no again. Anna's FS was an error-filled mess. She flubbed her 3-3 again, (fell out of the 3Lz, no 3T), but managed to recover with a good 3L-1L-3S. I thought maybe she'd settled herself down but her problems continued in the second half. She was tilted on almost every landing and had to put her hand down several times. To her credit, she didn't fall down but the image she left on the ice was very unappealing, sloppy and a bit awkward. Anna is not the most graceful or refined skater; when her jumps fail her it becomes very apparent how much polish and control her skating lacks. Even with the horrible performance, Anna placed 2nd in the FS and was able to move up to 2nd overall for the silver medal. Anna's gold from Skate Canada with this silver has qualified her for the Final.
Losing the gold medal at home in such a weak field of skaters can't be good for Anna in the eyes of the Russian federation. This was a "freebie" gold medal and she blew it, which also snapped the Russian ladies GP winning streak. My guess is she's in the federation's dog house until further notice...
Alaine Chartrand (CAN): 61.18 (SP) + 110.82 (FS) = 172.00 (3rd)
Yet another shocker on the medal stand. Like Rika, I doubt if many thought Alaine would land on the podium at this event.
Alaine shocked everyone by winning the SP. She was the only skater to score over 60 points in the segment...kudos to her but man was this a weak field! I digress...Alaine opened her SP with a nice 2A and followed it up with a fully credited 3Lz-3T. Alaine gets a nice pop into the air but doesn't always rotate as quickly as she needs to. Luckily, she was able to get full rotation here and was one of only two skaters in the top 5 to get full credit for a 3-3 (the other being Rika). I liked Alaine's "La Leyenda del Beso" SP. She's not as dynamic as a Kaetlyn Osmond but she does perform well. The judges seemed to like her as well. She earned the 3rd highest PCS of the segment and went into the FS with a slight lead over the rest of the field.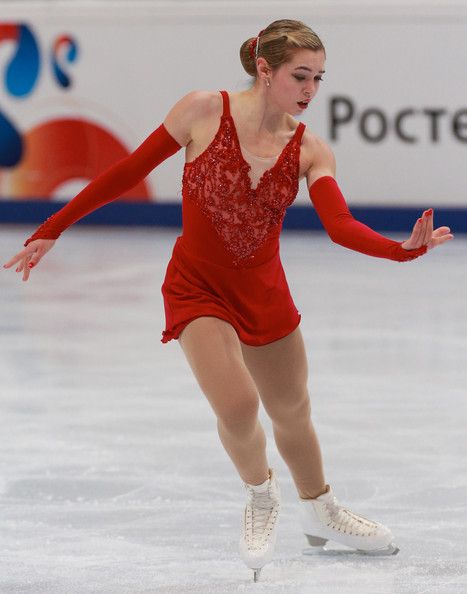 Gotta love her grit!
I wasn't sure how well Alaine would hold up under the pressure. After all, this was her first time leading a GP event and skating last is always a challenge. One thing I've found that I like about Alaine's skating is that she's very gritty. You can see the determination on her face when she skates. She is going to go for those jumps come hell or high water and she's going to stand up on them too. Alaine had several two-footed landings, under-rotated three triples and received an edge call on her 3F, but she fought the whole way. It wasn't an ideal performance of her "Dr. Zhivago" FS but she did hold up a lot better than I thought she would. In the end Alaine placed 3rd in the FS and dropped down to 3rd overall. I'm sure she was unhappy she wasn't able to capture gold but she did look very pleased with herself for earning a bronze medal, her first on the GP.
Alaine has what it takes to be that leading lady Canada is searching for. With Kaetlyn out again this season, it's a golden opportunity for the other Canadian ladies to step up and stake a claim for that number one spot. Alaine has the grit and determination to be that person.
As for the rest...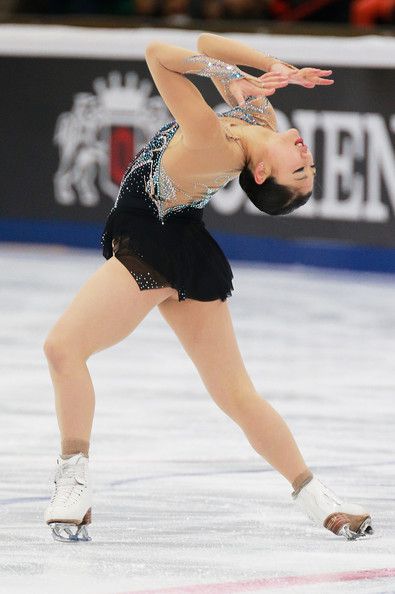 Please go visit Mura
Mirai Nagasu (USA; 165.88, 4th):
This was a better effort on Mirai's part but the story is still the same: under-rotations, under-rotations, under-rotations. She can't seem to escape them. A total of five and one downgrade through both segments of the competition. It's frustrating because you can see the improvements in her skating overall, but it doesn't count for much of anything because she can't get the scores she needs to move up. Had she rotated all or at least half of those jumps, she'd have ended up on the podium...she probably would have won. I do think she's doing a better job of bringing more life and energy to the choreography (thank you Jebus). Her PCS in the SP increased but I felt they lowballed her in PCS in the FS (only 54+). Again, she looked really shocked by her overall score...even her coach Tom Z looked shocked. Personally, I counted three under-rotations in real time during her skate, so I wasn't shocked. I'm not sure why they were.
Mirai has a long break until nationals in January. I don't know what they're going to do between now and then but something needs to change. I think she should take a trip to Japan and train with Takahito Mura's dad again. He had her fully rotating her jumps after only a few weeks of training with him...I'm just saying.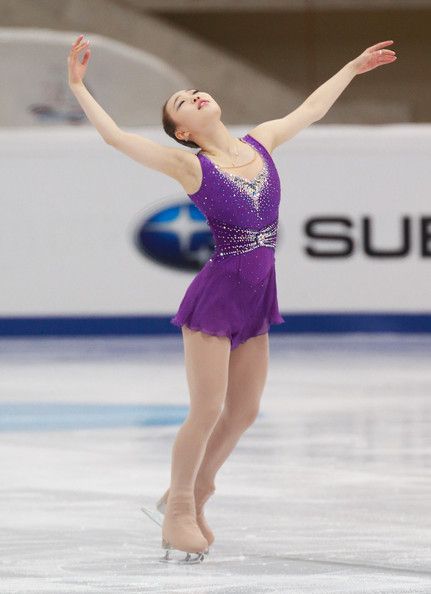 Another top 5 finish
So Youn Park (KOR; 163.24, 5th):
So Youn's undoing always seems to be in the SP. Again she made an error on her opening 3S-3T(
<
). She finished the SP in 7th place but I knew she had the ability to move up and that's exactly what she did. Overall she had a strong skate though she did leave points on the ice (doubled her intended 3-3, two under-rotations). I do think she should be higher in PCS but until she can start skating consistently, we all know that won't happen. Still, she placed 4th in the FS and moved up to 5th place overall.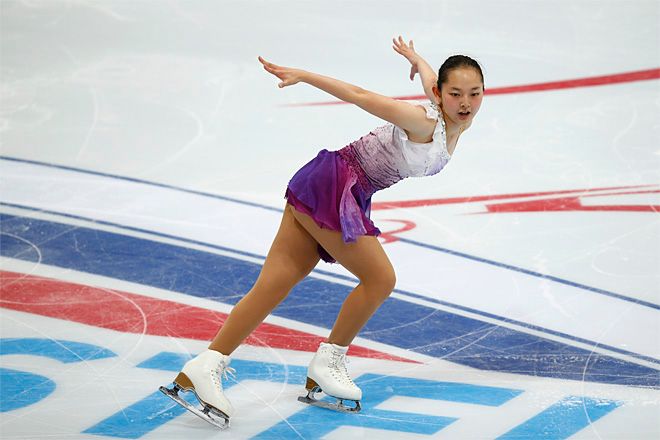 Welcome to the senior level newbie
Miyabi Oba (JPN; 154.57, 6th):
I watched Miyabi on the JGP for the past two years. She reminds me a lot of Miki Ando: deplorable carriage across the ice but solid jumps. Miyabi struggled in the SP but fought back in the FS. She'll need to amp up her technical content in the future (no lutz, no 3-3), but she had a decent debut here.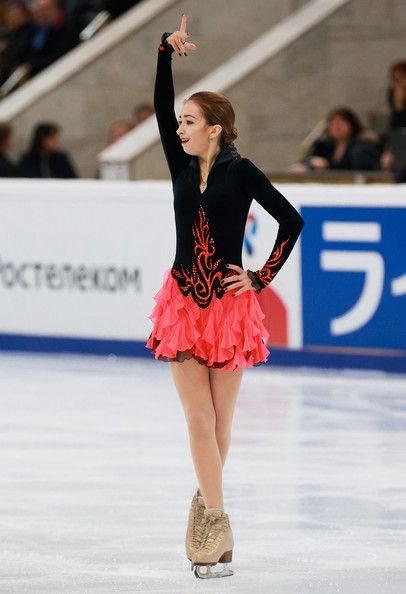 Some of the worst telegraphing I've ever seen
Maria Stavitskaia (RUS; 153.49, 7th):
She's like the Russian Polina Edmunds. All legs and arms but a nice presence on the ice. She's got the difficult content (3Lz-3T in both programs, credit for 6 triples in the FS) and she's pretty good at landing the jumps as well. Maria's main issue is that it takes her 45 minutes to set up a jump...okay that's hyperbole, but in all honesty she takes a full 5+ seconds before pulling the trigger. Roughly a third of the program was her telegraphing her jumps. I've seen skaters with long set ups but Maria takes the cake. She really needs to work on that...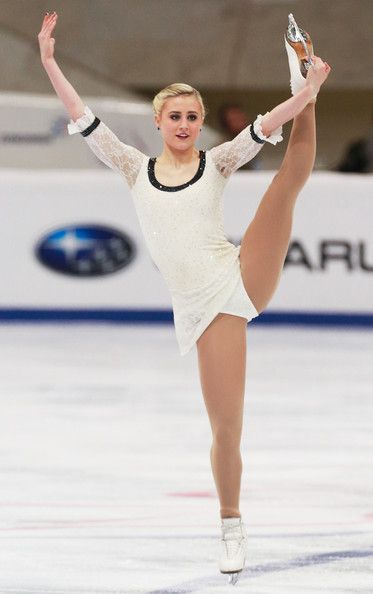 Better than last week
Ashley Cain (USA; 150.90, 8th):
It's tough to have back-to-back GPs but Ashley handled it. She had a much stronger SP here and finished 5th. The FS wasn't her best (two under-rotations and a downgrade) but it was a better effort than last week. Ashley has the goods to be competitive at the national level but she'll need much more if she wants to contend with the world's best.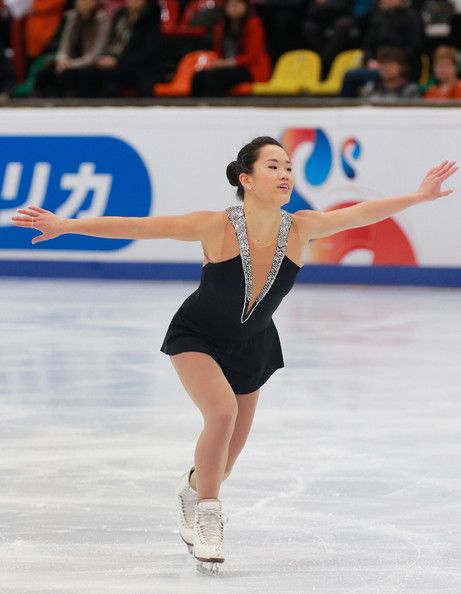 One day she'll discover her awesomeness
Angela Wang (USA; 150.75, 9th):
It was disappointing to see Angela finish so low here. She went for the 3Lz-3T but under-rotated and fell. Same thing with the 3L(
<
, fall). Despite the mistakes Angela was still in a position to make a move to the top 5. She opened her FS with a 3Lz-3T-2T and even though the 3T was under-rotated, the combo looked nice. She followed it with a gorgeous 3F but then started having problems. In the end she only completed three clean triples, finished 7th in the FS and 9th overall. Angela is so much better than this but until she can keep her nerves in check and deliver, the world will never see it.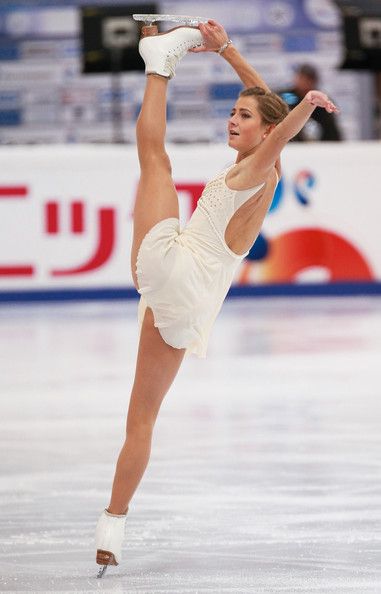 I enjoyed her performances
Maria Artemieva (RUS; 144.72, 10th):
I thought she did a decent job bringing a little flair to her programs but her jumps were not working. Falls in both programs, under-rotations, edge calls...she still needs a lot of work if she hopes to be a factor in Russia.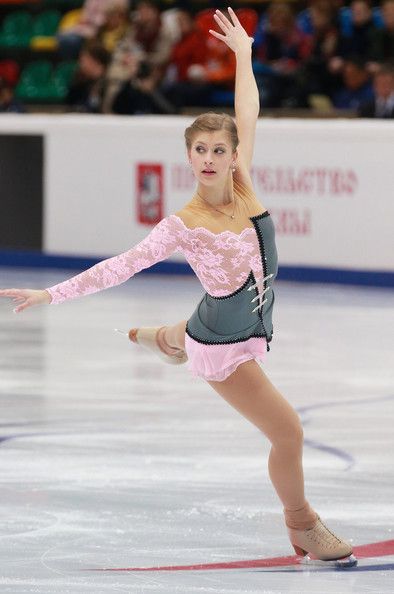 Definitely needs more
Eliska Brezinova (CZE; 134.04, 11th):
Eliska had a rough start in her SP, falling on her 3Lz but she did rebound with a solid FS. Unfortunately, she does not have nearly enough content in her programs to be competitive.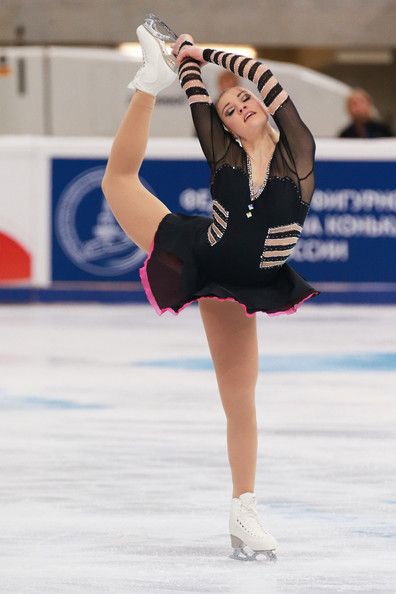 Wonder why she left?
Joshi Helgesson (SWE; 44.00, WD):
Joshi had a rather weak SP and withdrew before the FS. I'm not sure if she's injured or what. Are there any other skaters in Sweden? Joshi and Viktoria seem to be the only two and neither of them is skating well this season.
Only two events left. This week is
Trophee Eric Bompard
which will take place in Bordeaux France. We'll see
Elena Radionova (RUS)
who already won gold at Skate America at the beginning of the season. We'll also see
Julia Lipnitskaya (RUS)
who is looking to redeem herself after a bad FS at Cup of China. We'll also see
Ashley Wagner (USA)
face off against Elena and Julia...a win here would be a huge statement. We'll also see
Samantha Cesario (USA), Courtney Hicks (USA), Haruka Imai (JPN), Mae Berenice Meite (FRA), Laurine Lecavelier (FRA), Anna Ovcharova (SUI), Maria Artemyeva (RUS), Veronik Mallet (CAN)
and
Eliska Brezinova (CZE)
. Cup of Russia was by far the weakest field of the season; Trophee Bompard will definitely be the most competitive field of the season. I can't wait!
Who will win gold at Trophee Eric Bompard this week?
Make sure to vote on the poll!