This competition didn't go exactly how I thought it would but it was still a good one.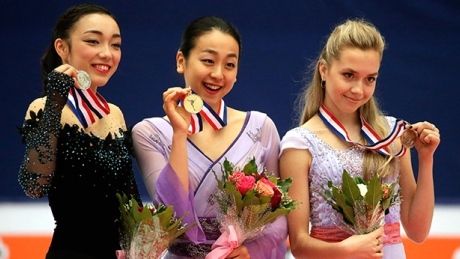 Mao is back on top!
The final results: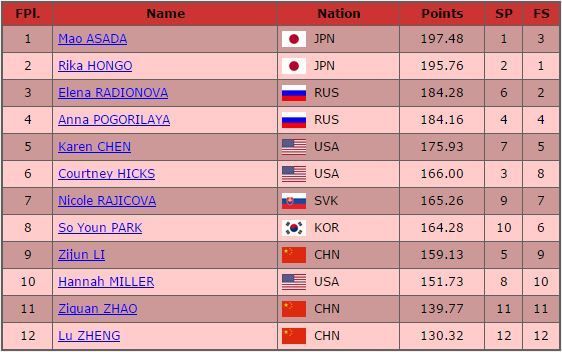 Mao Asada (JPN): 71.73 (SP) + 125.75 (FS) = 197.48 (1st)
Mao served notice at Japan Open that she's really back. After her stellar debut there, I was expecting to see her back in championship form at this competition.
Mao started off pretty brilliantly. I really like this "Bei Mir Bistu Shein" SP. It's a fun program that's a little cheeky and saucey; it's a side of Mao we've never seen in competition. I like it! Mao opened her program with a 3A. She landed it a little forward but it was on one foot and it was rotated. After that tough opening element Mao went right into her combination jump, 3F-3L. If there is a combination that is super-difficult to get ratified under this system, it's a 3-3 with a back end 3L. Even though it looked clean to me it was hit with an under-rotation. Mao's solo jump this year is a 3Lz. She landed the jump cleanly but was hit with an edge call which lost her nearly 2 points in base value. Even though Mao lost points on the jumps, she sold her program like the pro that she is and earned level 4s on everything except her combination spin (level 3). She easily won the PCS (+3 higher than the rest of the field, thank you very much) and went into the FS with a 5.94 point lead.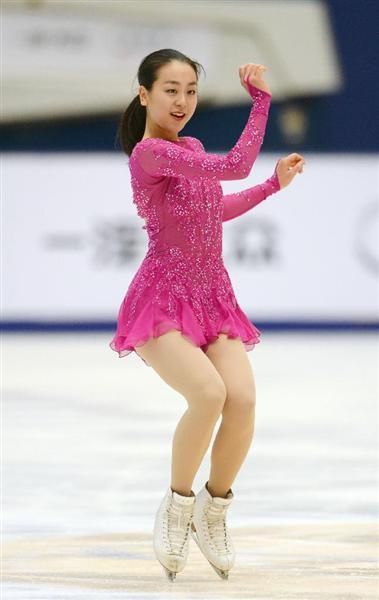 Werk the toe pick!
Good thing Mao had that lead because she needed just about every point to pull out the win here. Mao's FS wasn't a disaster by any means but it was well below what I was expecting to see, especially after Japan Open. The major bright spot of this performance was her opening 3A. It was
gorgeous
: height, distance, tight rotations, beautiful landing and riding edge. The jump earned +1.86 in GOE which gave her a total of 10.36 points for that element. Mao's other jumps weren't all that successful: she went for the 3F-3L and fell on the second jump, she doubled her 3Lz and popped her second 3F (which is supposed to be a 3-jump combo). In terms of jumps, she left a lot of points on the ice; however, this is
Mao Asada
...she knows how to earn points outside of jumps. The performance itself was classic Mao: gorgeous lines, elegance up the wazoo...everything we've come to expect from her. It wasn't her best but at least it was a decent staring point. She placed 3rd in the FS but thanks to her lead in the SP along with her superior PCS, Mao walked away with her 3rd Cup of China title. I'm sure she knows she got lucky here and that a FS performance like that in a deeper field wouldn't hold up for gold. Hopefully she'll come back even stronger at her next event.
Rika Hongo (JPN): 65.79 (SP) + 129.97 (FS) = 195.76 (2nd)
I said in my season preview that Rika would have to step it up in order to keep herself in the mix this season. Girlfriend has stepped it up in a big way.
Rika's SP is definitely one of my favorites this year. The program has a different feel from anything she has ever done before and I think that's half of the reason she stands out when she does it. The other reason is the fact she's hitting her jumps without the under-rotations. Her 3F-3T often got hit with under-rotation calls last year but she nailed it here. Rika's lutz doesn't have the best lutz edge but she managed to dodge the edge call bullet here and only received a ding (!). She maxed the levels on all of her non-jump elements and really got into her performance and sold it to the judges. There is still a lot of work to do on Rika's posture but she has improved tenfold in terms of her ability to connect to her music and project to the audience...and the judges are finally taking real notice of it. Rika scored a personal best with this performance and placed 2nd in the SP.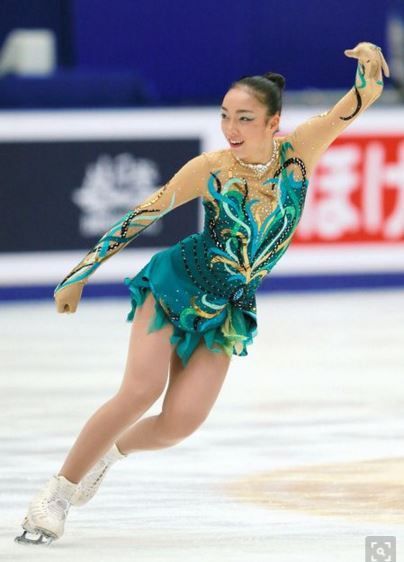 I told ya'll not to sleep on Rika Hongo...I told you
I absolutely adore this "Riverdance" FS for Rika. I've seen Jason Brown's amazing program but I don't watch men's skating enough for it to be etched into my mind when I hear this music play. As a result, I'm able to focus on Rika and what she's doing while she's out there rather than comparing her to someone else. This was definitely the kind of performance Rika wanted to open her season with. She opened with a nice 3F-3T and added 5 more triple jumps including a 2A-3T-2T in the bonus, all of her spins were level 4s and she totally got the crowd behind her. Rika took advantage of the excitable crowd and played right to them. She pretty much brought the house down and had the performance of the night. Her PCS shot up (65+) and Rika ended up with her largest FS score and total score ever. She placed 1st in the FS (a victory in itself considering the world medalists she up against) and placed 2nd overall. I'm so glad Rika is finally getting some of the respect she deserves. She's an excellent performer and a kick-ass competitor and people are finally starting to see that.
Elena Radionova (RUS): 58.51 (SP) + 125.77 (FS) = 184.28 (3rd)
After the amazingly successful season Elena had last year I was very interested to see if she would be able to maintain that high level this year.
The SP was not her best by a long shot. This "Je t'aime" SP isn't as exciting or fun as last year's program but I do like it. The music is lovely and Elena is packaged very well in it (I like her longer peach dress and her braces are adorable!). Unfortunately, Elena was a little off here. She opened with what was supposed to be her 3Lz-3T combo but had some trouble on the landing of the lutz and did not complete the combo. Ever the gutsy one, she tacked a 3T to the end of her solo triple (3L) but ended up under-rotating it. The biggest mistake she made was singling her axel which netted her zero points for the element. The spins were solid (two level 3s and one level 4) and I loved the speed in her step sequence (level 3). It was not a strong performance technically but, as always, Elena sold her program very well which helped her earn the second highest PCS of the segment. She placed 6th in the SP.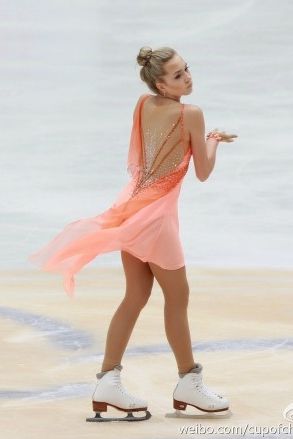 I will not panic...yet.
So, I'll just say it: I
hate
this "Titanic" FS, and that is coming from an Elena super-fan. The music edit is bad, the choreography is bland, the spoken words from the movie are
oh so
cheesy...it's just crappy. I think Elena's dress is lovely...that's the only thing I like about this program. After seeing Elena nail every jump in her Rachmaninoff FS last year, my standard for her is very high. She opened with a solid 3Lz-3T and 3F, but fell on her second lutz. She recovered with her 3L-1L-3S combination but stepped out of her 3L. I'm not ready to declare that Elena is having jump issues...not yet. The jumps she did land were fine and looked very much like her usually slightly wonky jumps. I think she was just off here. I do wonder if not having her coach Inna Goncharenko there was a bit of a distraction (word was she was taken to the hospital). It wasn't Elena's best but thanks to some strong PCS she was able to score well. She finished 2nd in the FS and moved up to finish 3rd overall.
As for the rest...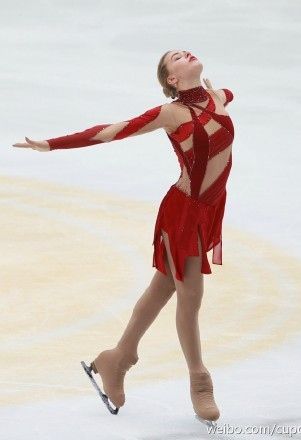 I'm feeling Anna this season...
Anna Pogorilaya (RUS; 184.16, 4th):
This was a better than usual outing for Anna, though it was not without its issues. I really like Anna's SP. Her overall packaging has improved and she's controlling her arms much better than she did in the past. I find her very watchable this season which has not been the case for me in the past. Anna fell on her opening 3Lz-3T combo but finished the rest of the program strongly and placed 4th. I like this "Scheherazade" FS for Anna as well and feel as though she has one of the best FS among the Russian ladies this season. Anna had two falls (OMG, ouch!) and an edge call in her FS which lost her points. Even with the mistakes Anna scored well and only missed out on a medal by 0.12 points here.
Finally starting to see some signs of life
Karen Chen (USA; 175.93, 5th):
Karen started off pretty roughly in her SP. She fell on her opening 3Lz-3T and received a downgrade on the 3T which lost her even more points. Thankfully she finished the rest of the program cleanly and was not that far out of medal contention. It took a while but we finally saw a bit of that spark we saw from Karen at nationals earlier this year. She turned in a very strong FS with her only mistake being a singled loop. Karen earned level 4s on all of her non-jump elements and scored better in PCS as well. She finished 5th in the FS and was able to move up to 5th overall. Slowly but surely, she's finding her stride as a competitor...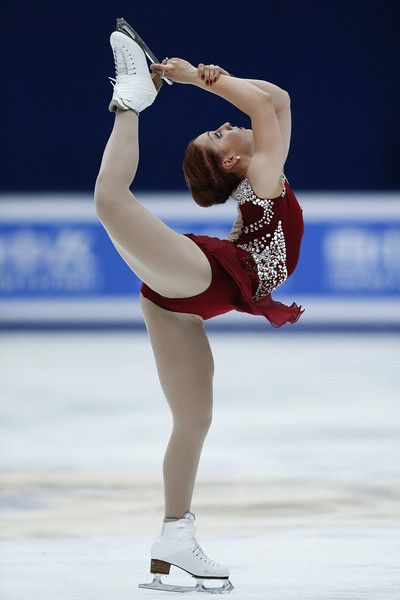 Must do better under pressure
Courtney Hicks (USA; 166.00, 6th):
It was great to see Courtney come out and deliver a solid SP. She doubled her intended 3F-3T combination and also earned a low level on her layback spin (level 2) but she stayed focused and delivered her remaining 3Lz, 2A and level 4 elements cleanly. Her solid skate resulted in her highest ever SP placement at a GP event: 3rd. Going into the FS, Courtney was in a position to medal if she skated well. Her
M.O.
has been to skate poorly in the SP but come back strongly in the FS. I think knowing she had a very good shot at the podium may have spooked her because Courtney blanked out. A fall, a popped jump and two doubled jumps lost her a lot of points and killed any shot she had at a podium finish. She finished a distant 6th.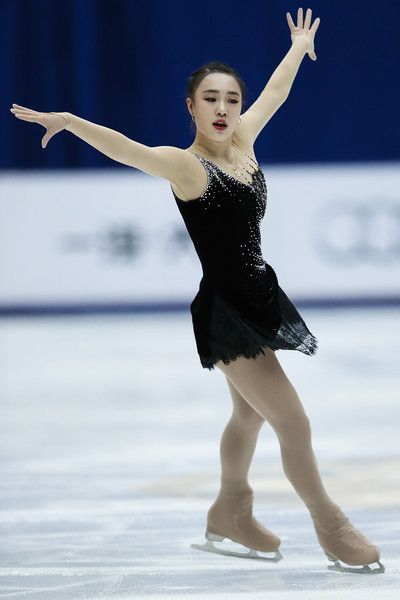 *sigh*
So Youn Park (KOR; 164.28, 8th):
*sigh*
What else can I say about So Youn? Poor SP, stronger FS...she's never going to get anywhere skating like this. The saddest thing is she's good enough to be a top 5 finisher every time out. She just can't seem to get it together...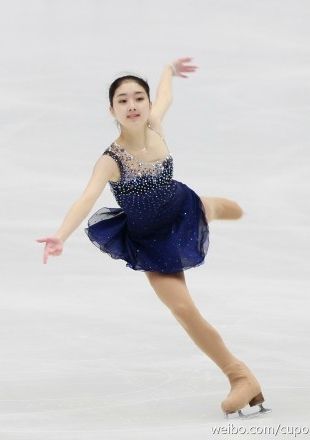 More energy! More! More!
Zijun Li (CHN; 159.13, 9th):
Zijun's SP was all kinds of lovely. "Clair de Lune" is one of my favorite pieces and it matches Zijun's light, delicate and graceful style perfectly. No 3-3 but all of her elements were solid and she cast a really beautiful spell. She placed 5th in the SP but was still within striking distance of the podium. Sadly, the FS was not good. Zijun doubled two triples and also Zayaked with too many 2Ts which lost her the value of her 3S-2T combo. More than that...she just put me to sleep. Zijun's soft style is lovely when there's purpose behind it; however, midway through her FS her energy level bottoms out and she bores me. I really hope she works on her conditioning and keeping her energy up all the way through the performance.
This week the Grand Prix series heads to Bordeaux, France for
Trophee Eric Bompard
. The headliners this week will be
Elizaveta Tuktamysheva (RUS)
,
Gracie Gold (USA)
and J
ulia Lipnitskaya (RUS)
who will all be competing in their second GP of the season. We'll also see
Kanako Murakami (JPN), Gabrielle Daleman (CAN), Mae Berenice Meite (FRA), Angela Wang (USA), Haruka Imai (JPN), Brooklee Han (AUS), Laurine Lecavelier (FRA), Roberta Rodeghiero (ITA)
and
Angelina Kuchvalska (LAT)
.
Poll time! Who will win gold at TEB? Make sure to vote!