With so many well-known names at this event I expected this to be the best competition of the series. Unfortunately, it turned out to be the most disappointing...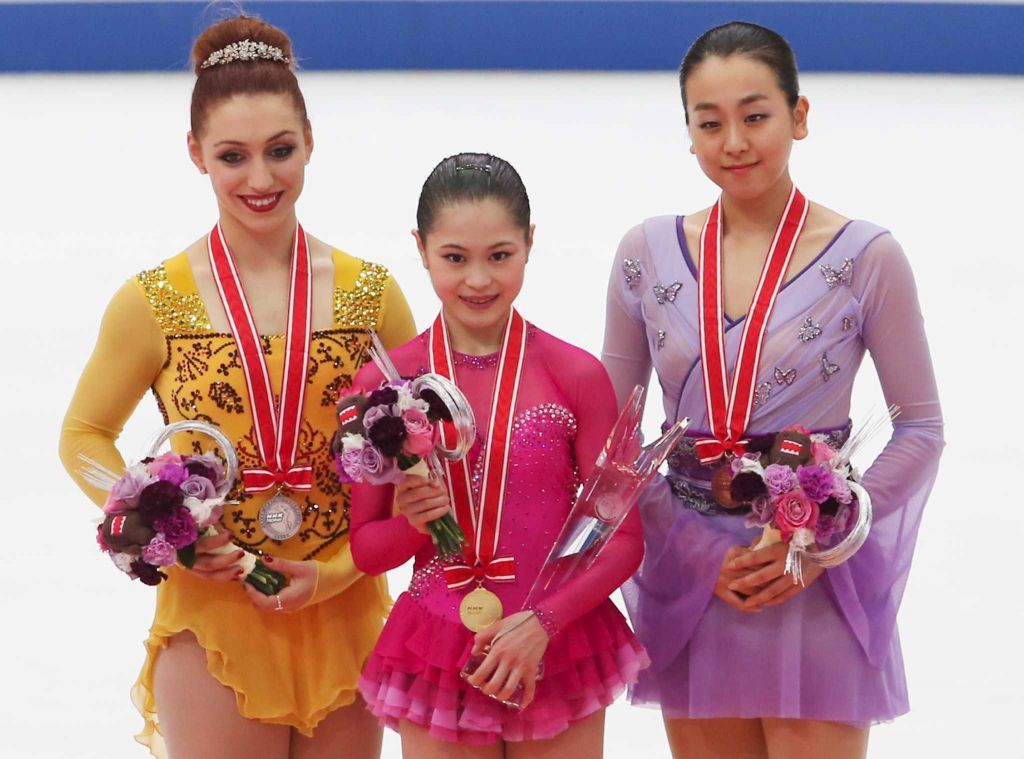 I'll give you a million dollars if you predicted this correctly...
Final results: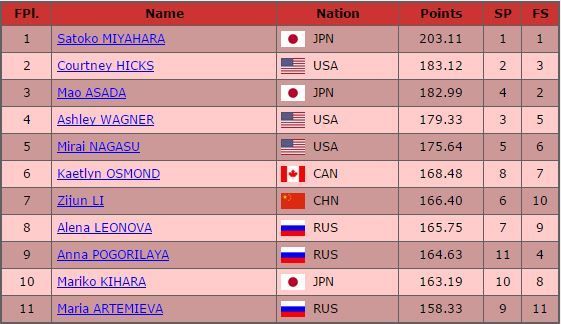 Satoko Miyahara (JPN): 69.53 (SP) + 133.58 (FS) = 203.11 (1st)
I wasn't sure if Satoko would be able to hang on to her #1 spot in Japan with Mao back in the mix, but it's clear she's not giving it up without a fight.
The truth of the matter is Satoko was the only one at this event who showed up ready to compete. She started off very well in the SP. This "Firedance" SP is one of my favorites of the season. It's fiery, upbeat yet still very elegant and refined. Satoko was great here: 3Lz-3T to open with a 3F(
!
) and 2A in the bonus, and all level 4 non-jump elements. The judges were very fair with her GOE as far as I'm concerned; she didn't gain much in her jumps but her spins and steps were rewarded, as well they should be. Satoko earned a new personal best score and went into the FS with a 3.93 point lead.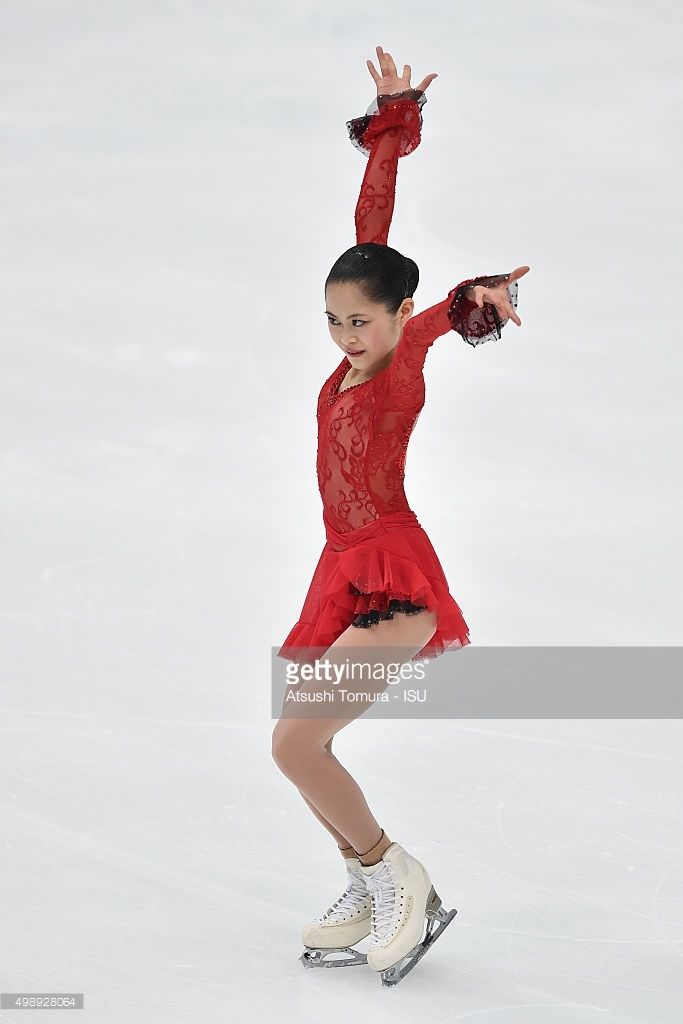 Ta-daa! Tiny Queen is fabulous!
Satoko skated last and she skated best. Given the number of sub par and disappointing FSs that preceded her, I was scared we might end up with another disaster to wrap up the event. Luckily, that wasn't the case at all. Aside from an under-rotation on a 2A at the end of the progran, Satoko was great. 7 triples total including two 2A-3T combinations in the bonus, one level 3 spin and level 4s for everything else, gorgeous presentation and control...she was
on
. It was so refreshing to see her come out and compete without the jitters or hesitation we'd seen earlier in the competition. Satoko set a new personal best score, won the FS and won the competition. I expected this to be a close fought battle but Satoko ended up winning by nearly 20 points. This gold medal qualifies her for a trip to the Final. Well done Tiny Queen, well done.
Courtney Hicks (USA): 65.60 (SP) + 117.52 (FS) = 183.12 (2nd)
Courtney has been struggling to break through on the Grand Prix scene for a while. This surprisingly weak competition was just the opportunity she needed to get her foot through the door.
Courtney started off very well in the SP. She opened with a big 3F-3T but ended up adding a turn between the two jumps. It's become a very bad habit that loses her points needlessly. She doesn't control the landing of the first jump and is forced to reset prior to adding the 3T. Thankfully, she didn't let the opening mistake rattle her. She went on to land a big 3Lz (+1.10) and 2A in the bonus as well as all level 4 non-jump elements. It was a strong performance that earned her a new personal best score and (surprisingly, in this field) placed 2nd in the segment.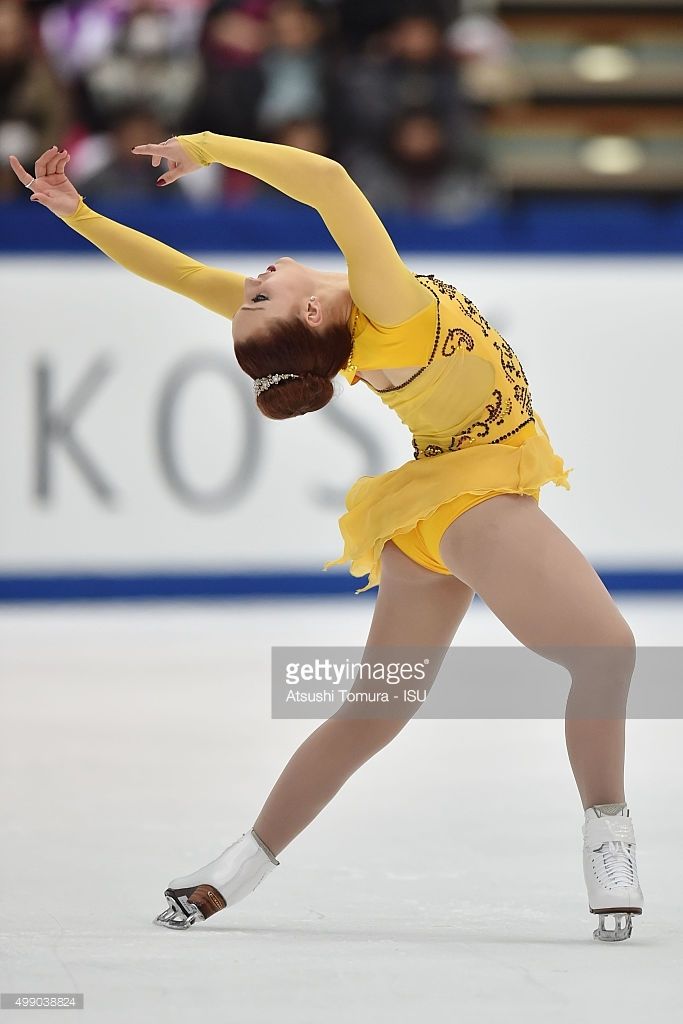 Opportunity seized. Well done.
Courtney skated second to last, after Mao and Ashley had both left the door wide open for an upset. Courtney found herself in this position at Cup of China earlier this season. She'd placed 3rd after the SP and was in a good position to land on the podium but was unable to hold it together in the FS. It appeared as though she was heading in that same direction at the beginning of her program. Courtney opened with a shaky 3F-3T (but no turn in the middle) and then went down on her 3Lz. Thankfully, she was able to settle herself and give a better performance in the second half of the program. She had a little trouble on the landing of her 3L but other than that, she was able to finish out her program cleanly. Courtney doesn't command the same PCS as the top tiered skaters but thanks to rather poor TES from the competition, she was able to make up the difference from her PCS with her solid TES. She placed 3rd in the FS and was able to edge out Mao Asada for her first medal on the GP. Courtney won't make the Final but she's helped to position herself as a strong #3 heading into U.S. nationals. If she can build on this performance, she may earn herself a trip to Boston.
Mao Asada (JPN): 62.50 (SP) + 120.49 (FS) = 182.99 (3rd)
Mao started off the season in grand fashion at Japan Open; however, we haven't really seen that level since then...
For all of the trouble Mao has been having with other jumps, her 3A had been really solid up until this point. She opened up her SP with one but under-rotated it and fell. Mao got right back up and went into her 3F-3L combo and landed it cleanly. Not only was it clean, she received full credit for the rotation on both jumps. That's gotta be the first time that has happened in a while. It looked as though things were back on track...and then she popped her lutz. Mao's non-jump elements were all level 4s and gorgeous, in particular the step sequence. Her ability to execute such complex, intricate and difficult steps with speed, ease and grace is amazing. No one else compares.
Fantabulous
step sequence aside, Mao's lack of jumps hurt her and left her in 4th place heading into the FS.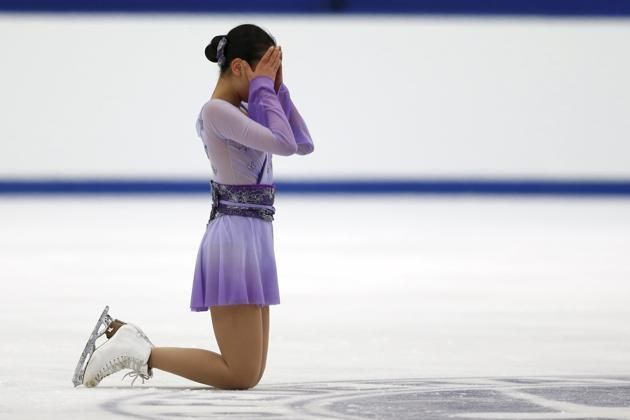 Make no mistake, she knew it was bad
The FS is usually a chance for Mao to make up some ground...when she lands the jumps. That is not what happened here. Mao opened with an axel that looked as though it may have been intended to be a triple but she landed on two feet. It didn't get much better from there: no 3-3 combo, she under-rotated both 3Fs, no 3-jump combo and a ding on her 3Lz. She was able to land a nice 2A-3T in the bonus but overall she only had 4 clean triples. Level 4 spins and level 3 on the steps helped her TES and she earned the highest PCS of the night as well, but she left too many points on the ice. In the end Mao placed 2nd in the FS but 3rd overall. Mao earned her trip to the Final but I don't think this was the way she wanted to do it.
As for the rest...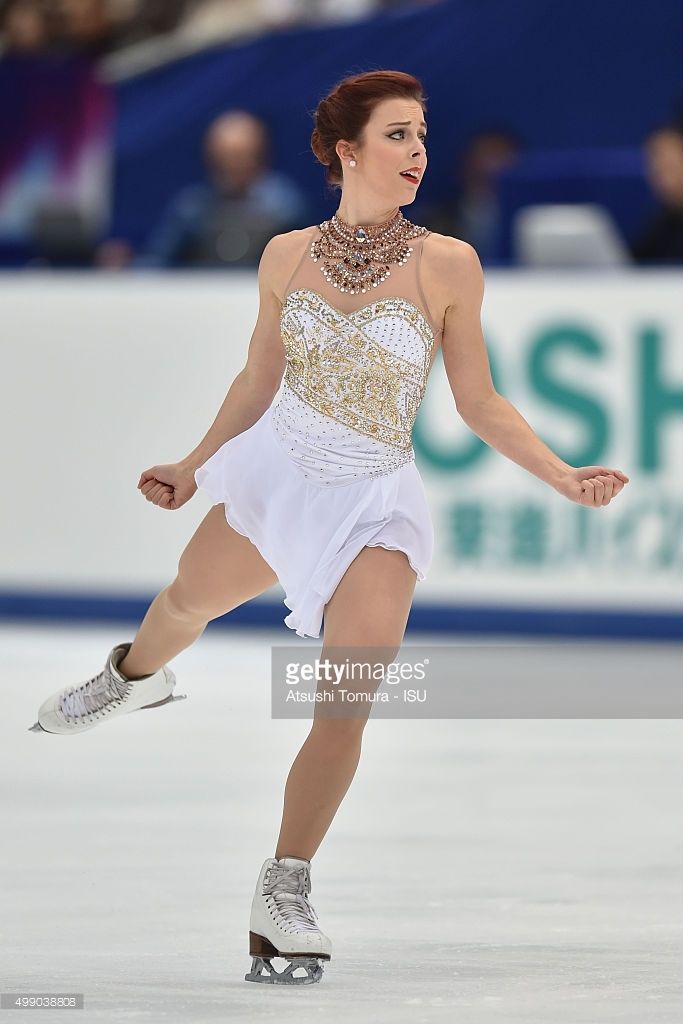 She better come out swinging at the Final
Ashley Wagner (USA; 179.33, 4th):
Oh, Ashley. She's my favorite roller coaster: one minute she's up, the next she's down. This was definitely one of her downs. The performances were strong as usual but the jumps were just MIA at this competition. In the SP Ashley had a bad landing on her 3F and was unable to add the 3T to the end. She added a 2T to her solo 3L which helped her score and put her in 3rd heading into the FS. But the FS was
rough
. An off landing on her 3F prevented her from doing the combo so she added it to the second half of the program. Both combos were bad (3L(
<
)-1L-3S(
<<
) and 3F-3T(
<<
)) and she received a ding on her lutz. Ashley only scored 50.20 in TES. Ouch. Her PCS helped but it wasn't enough to keep her on the podium. This is the first time she's missed a GP podium in 4 years. Thanks to her gold medal at Skate Canada she will be at the Final this year, but she's got her work cut out for her.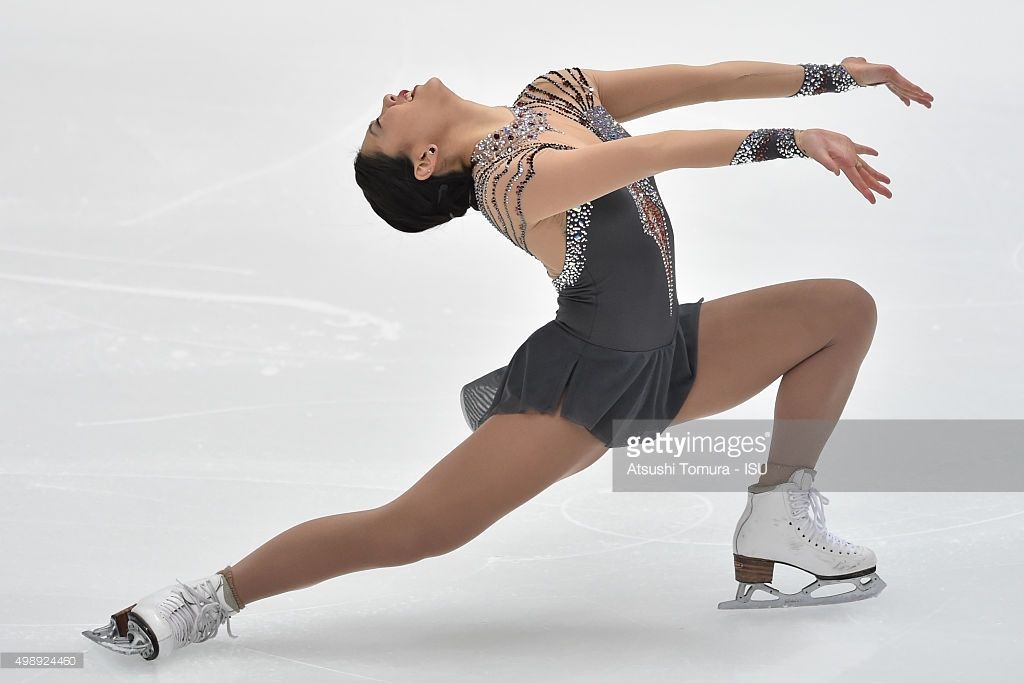 I loved the emotion!
Mirai Nagasu (USA; 175.64, 5th):
This was Mirai's only appearance on the GP and I think she made the most of it. Her SP jumps were solid: under-rotation on her 3F-3T but her 3L was gorgeous as were her spins (better speed). She really performed her "Demons" SP better than I've seen her do in a long time which is always encouraging to see. Mirai placed 5th in the SP. I really love her new dress for her "Great Gatsby" FS. The sparkly flapper look really works with the theme of the program...I still think there are too music many edits but she made it work. The jumps were okay by Mirai's standards but she still under-rotated two triples and got a downgrade on her 2A-3T. She also really needs to work on her speed, especially in her step sequence (only level 2). Still, it was nice to see her smile here and a top 5 finish is definitely something to be proud of.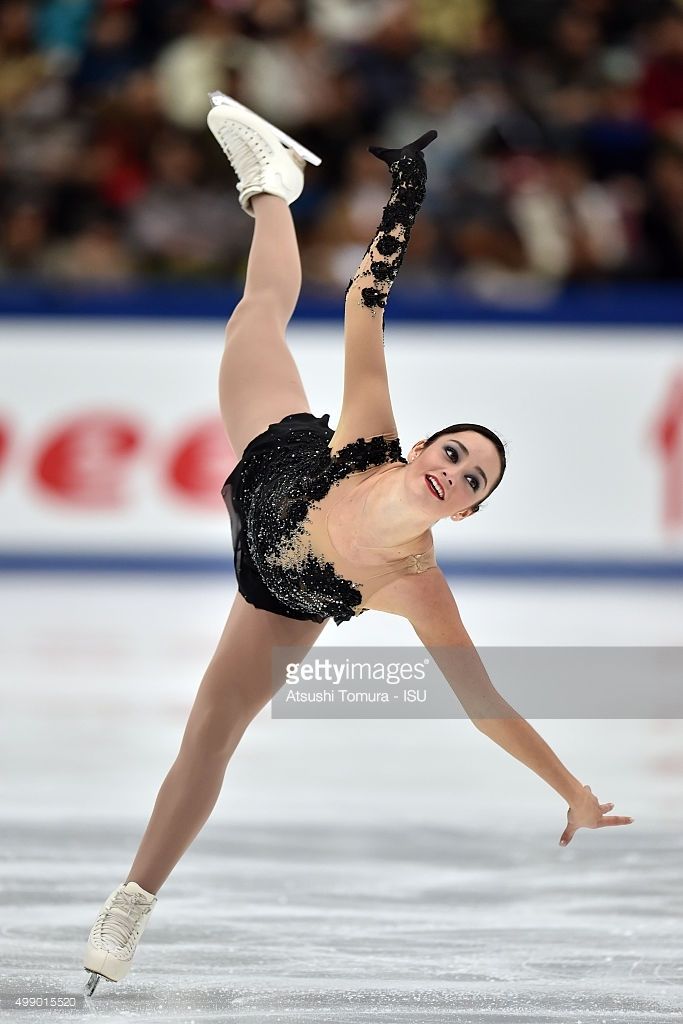 Lots of work left to do
Kaetlyn Osmond (CAN; 168.48, 6th):
Kaetlyn's overall skating has improved but her jumps are not working for her right now. She had a fall on her lutz in the SP and two falls in the FS. The good news is the judges aren't dismissing her. She's still earning solid PCS and nice GOE on her the elements she does well but until she can deliver consistently, she won't be in the medal conversation.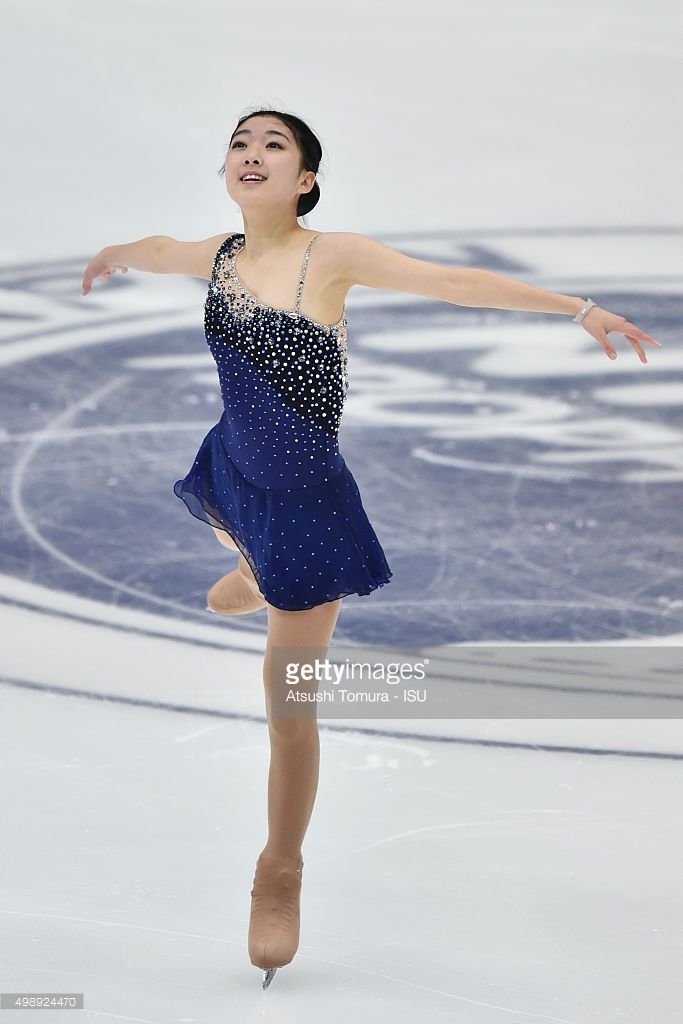 Much better performances...now just the jumps
Zijun Li (CHN; 166.40, 7th):
Zijun had a nice SP. She got hit with an under-rotation on her 3F-3T but the rest of her elements were solid. Unfortunately three under-rotated triples and an edge call really hurt her score in the FS. The good news? She gave a good performance in her FS. There was more energy and life in that performance than I've seen from her in about two years.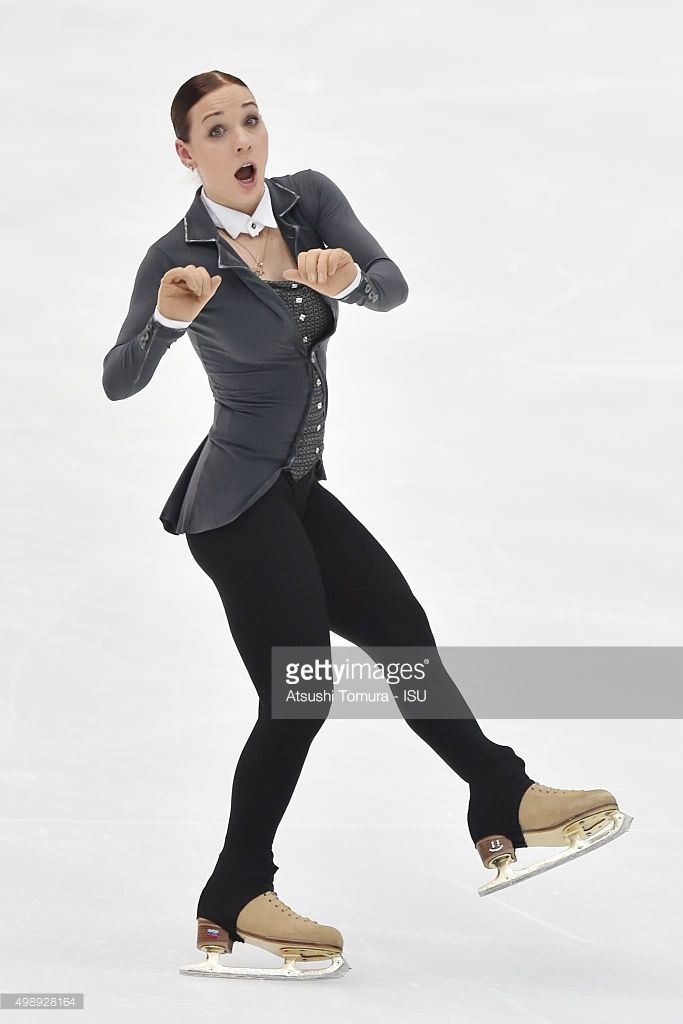 No one can out-camp Alena
Alena Leonova (RUS; 165.75, 8th):
She's still hanging around. Alena opened her SP with a beautiful 3T-3T (+1.30) but fell on her 3F. The FS was not great. A fall, a pop and two under-rotations ate away her TES and left her 9th in the FS and 8th overall. When Alena is good, she's good. She could still be a factor in this field if she can get her jumps back. If...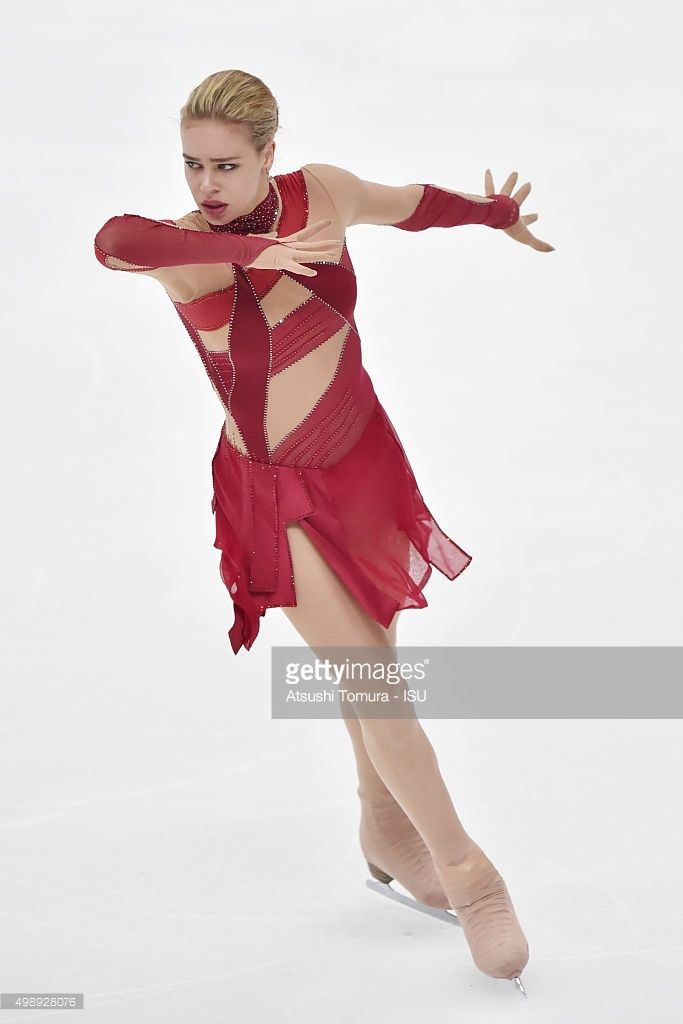 I just want to give her a hug
Anna Pogorilaya (RUS; 164.63, 9th):
What is going on with poor Anna? I mean, damn! The SP was a complete and utter disaster. She fell on her 3Lz-3T combo, she fell again on her 3L, and she tripped and fell in her footwork. Hell, she even almost fell getting off of the ice! She placed dead last in the SP, more than 7 points behind her closest competitor. Anna fought back in the FS. There were a couple of shaky landings but she stayed upright. She placed 4th in the FS but it wasn't enough to pull her up very far. I feel really bad for Anna. I see the improvements in her overall skating but now her jumps seem to have abandoned her. If she can weather this storm and get her jumps back, she'd still be in contention.
And, that's all folks! The 2015-2016 Grand Prix season is over. All that's left now is the big one, the main event: The Grand Prix Final. Let's check the standings:
2015-2016 Grand Prix: Final Standings
After the events in Paris caused the cancellation of Trophee Eric Bompard, the ISU decided to award GP points based on the SP results. Without combined total scores, the combined total of SP scores from both events was used as the tiebreaker this year. So here are the standings: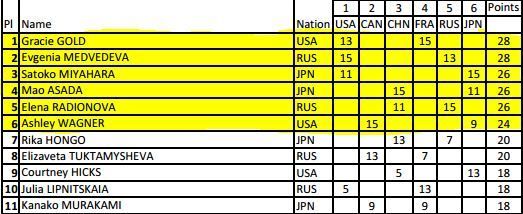 Gracie Gold (USA)
earned a total of
28 points
. The silver medal she won at Skate America along with the gold medal points she was awarded for her result in Trophee Eric Bompard qualifies her in
1st place.
Evgenia Medvedeva (RUS)
also earned
28 points
. Her gold at Skate America and silver at Rostelecom Cup gave her the same total points as Gracie; however, Gracie edged her out by 0.76 points in combined total SP score, so Evgenia qualifies in
2nd place
.
Satoko Miyahara's (JPN)
win at NHK Trophy stamped her ticket for her first trip to the Final. That gold medal combined with her bronze medal at Skate America gave her a total of
26 points
, which qualifies her in
3rd place
.
Mao Asada (JPN)
also earned a total of
26 points
. Her gold medal at Cup of China and bronze medal at NHK Trophy tied her in GP points with Satoko; however, Satoko edged Mao out by only 0.42 to qualify ahead of her. Mao qualifies in
4th place
.
Elena Radionova (RUS)
also earned
26 points total
. Gold at Rostelecom and bronze at Cup of China tied her with Satoko and Mao in GP points, but she lost the tiebreaker to both. She qualifies in
5th place
.
Ashley Wagner (USA)
earned a total of
24 points
. She only received 9 points for her 4th place finish at NHK Trophy but the points she earned from the gold medal at Skate Canada helped to keep her Finals streak alive. She qualifies in that
6th and final spot
.
For the second year in a row,
Rika Hongo (JPN)
is the first alternate with
20 points
. Most shocking of all, the reigning Grand Prix Final champion
Elizaveta Tuktamysheva (RUS)
did not earn a spot this year. She is the 2nd alternate with
20 points
. Perhaps Liza was most hurt by the TEB decision. She had a bad SP but most felt she'd have been able to make it to the podium in the FS...I guess we'll never know. The 3rd alternate is
Courtney Hicks (USA)
with
18 points
.
The
2015-2016 Senior & Junior Grand Prix Final
will take place December 10-13 in Barcelona, Spain. In case you forgot, here's the
Junior Grand Prix qualifiers
we'll see. I'm crossing my fingers for great competitions in both ladies events. I'm not making any predictions for this one, but you can.
Who will win the GPF? Who will win the JGPF? Make sure to vote! It's the last Grand Prix poll of the season!