There were plenty of big Russian names at this event. We had the reigning national champ, the reigning world junior champ and the reigning Olympic champ...needless to say inflation was expected.

Elena Radionova (RUS): 71.79 (SP) + 139.53 (FS) = 211.32 (1st)
After Elena's weaker performances at Cup of China, I think a lot of people were ready to proclaim her another victim of the puberty monster...but I wasn't ready to sound the alarm just yet.
Elena seemed to be back to her good ol' self in the SP. She skated last in a field where a number of skaters had thrown up some very impressive scores. Half of Elena's mystique last year was her ability to keep herself calm under pressure and deliver time and time again. That's what she did here. She opened her program with a solid 3Lz-3T. The riding edge on her lutz still isn't great but it's not affecting her rotation or her ability to get that second jump off. Her 3L and 2A were solid and she maxed the levels on all of her non-jump elements as well. This "Je t'aime" SP is effective when she skates it cleanly and the judges really seemed to love it. At the end Elena seemed overwhelmed with emotion which is something I like to see from time to time; it shows that a skater really cares what's happening out there. Elena's clean skate earned her the highest TES and PCS of the night and a new personal best overall. She went into the FS with a 4+ point lead.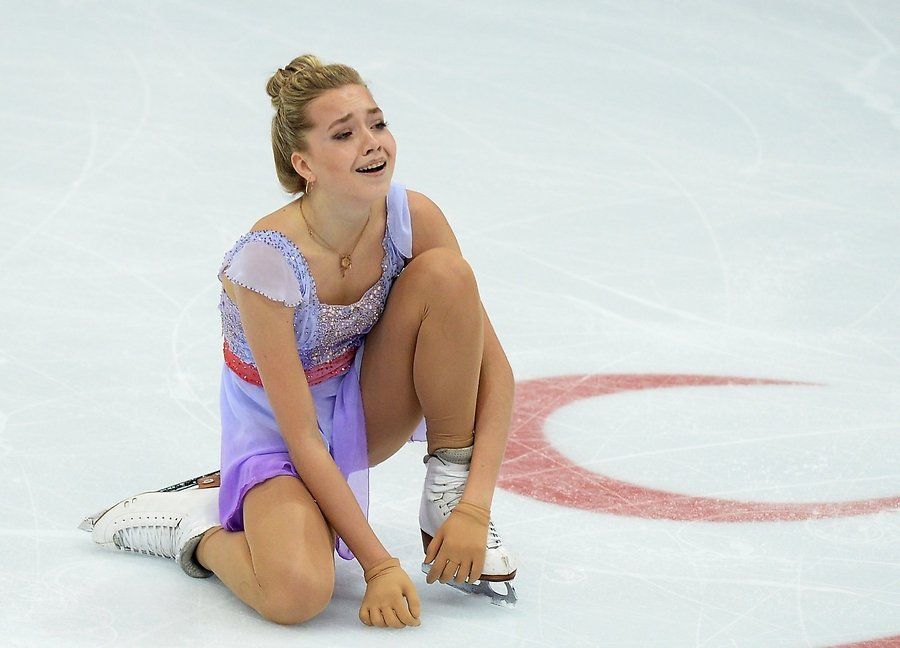 Cancel alarm. I repeat, cancel alarm. All clear.
Skating last is always difficult and the numbers that were put up by Medvedeva would have been enough to shake even the toughest competitor. Elena managed a clean SP but the true test to see if she was back on her game would be for her to come out and nail her FS under pressure in front of a home crowd. Challenge accepted, met and conquered. Aside from a ding on her 3F(
!
), Elena was flawless. She hit all 7 of her triple jumps including her opening 3Lz-3T and 3L-1L-3S in the bonus as well as all level 4 spins and steps. I'm still not a fan of the program but she did a good job bringing the angsty drama and selling it to the crowd and judges. At the end there were tears yet again and when her scores came up Elena was thrilled. According to commentary from Tatiana Tarasova, Elena has had some struggles this season with painful injuries and getting herself back into
LENA MODE
. These performances were just what Elena needed to get her mojo back on track. Elena finished a close 2nd in the FS (only 0.20 points behind Medvedeva) but her lead from the SP easily landed her the win. Elena's bronze from COC and gold medal here (and big score) should be enough to nab her place in the Final.
Evgenia Medvedeva (RUS): 67.03 (SP) + 139.73 (FS) = 206.76 (2nd)
Evgenia is the one everyone should be looking out for. Despite her age and the fact that she's a newbie, girlfriend is kicking butt and taking names with the greatest of ease.
Evgenia opened her SP with a spin and footwork rather than with her hardest jumps like everyone else. It's one of the aspects of what I call point-whoring but it's brilliant and beneficial if you can pull it off. However, Evgenia's opening jump didn't go according to plan. She went for her tano 3F-3T combination but went down on the 3F. Luckily, the girl has laser focus and was able to improvise on the fly. She popped right back up, landed her 2A and then turned her solo 3L into a 3L-3T combination. I have to give credit to Evgenia because she had so little time to get herself together after that initial fall. All of her jumping passes happen within less than 30 seconds which means she has no time to think it over; she just had to go for it. Her quick thinking paid off and saved her score. Evgenia placed 3rd in the SP.
The FS is Evgenia's strength simply because she has so much more room to stack points. She abuses utilizes the tano feature on several of her triples and completes 4 out of her 7 triples in the bonus section of the program. I harp on her point-whoring but please understand that I adore this girl. I love how focused and consistent she is but more than that, she's a lovely performer as well. I find all of her programs to be unique in style and very pleasant to watch. I marvel at the fact she's been able to bypass the usual newbie scoring pitfalls most new seniors deal with but I get why...she's that good. Evgenia was great here as well. Aside from a step-out on her 2A, she hit all of her triples and posted the highest FS score of the competition. In the end it wasn't enough to catch Elena but Evgenia walked away with another medal in her debut season on the Grand Prix and a guaranteed spot in the Final.
Adelina Sotnikova (RUS): 65.48 (SP) + 119.63 (FS) = 185.11 (3rd)
Adelina has been out for a while. What we have seen from her since then hasn't been terrible but it hasn't been anywhere near the level she needs to be at either so I wasn't sure what to expect.
All things considered, I think she did very well in the SP. In terms of presence and maturity, Adelina was the best at the competition in my opinion. She's always had a great presence about her on the ice and her time on Dancing With the Stars has enhanced it. Her posture is better, there is more control to her movements and she just looks like a woman out there. The jumps were shaky but not awful. She doubled her opening 3T-2T and her 3F and 2A were a little unsteady but landed cleanly. The spins are still lovely and aside from a near slip in her footwork, everything there was nice too. I really like this program for her and I thought she did a very good job of selling it the judges and the audience. All in all, it was a solid performance. Adelina placed 4th in the segment and was within striking distance of the podium.
I'll be honest: I was expecting this FS to be a total splatfest/disaster. Though it wasn't a good performance, I have to give Adelina credit for not bailing out of all of her jumps. I think an easier layout would have worked out better for her but she went for the same content she did in Sochi. Adelina opened with a 3Lz-3T that got hit with an edge call on the lutz and a downgrade on the 3T. She followed it up with a nice 3F and 3L as well as a nice spin and step sequence. However, it was obvious she was on "E" by the time the second half of the program started. She was slower across the ice and you could just tell she was running on fumes at that point. A downgrade on her 2A-3T, a doubled 3F and a fall on her 2A at the end lost her a lot of points but to her credit, she didn't give up. I don't think Adelina deserved 69+ in PCS for that performance; however, I'd be lying if I said I was surprised. Olympic champ + home ice = big scores. Thanks to a boost in PCS Adelina landed on the podium and completed the Russian sweep. We won't see Adelina again until Russian nationals. If she hopes to earn a spot on the world team, she needs to be much much better than she was here.
As for the rest...
Polina Edmunds (USA; 183.20, 4th): I do think Polina deserved to place over Adelina in the FS but, again, home skaters get the advantage. Additionally, Polina gave up a lot of points in the FS. Her SP was clean and well skated. No under-rotations and no edge calls (kudos to her for cleaning up that flip edge). However, while her FS looked clean, she actually received under-rotation calls on 4 out of 7 triple jumps. Polina hooks the landings on her jumps; there's always a spray of ice on her landings. In some cases she can get away with it but the caller at this event went after her. It was a good effort overall but Team Polina need to address the under-rotation issues now before she gets a reputation as a chronic under-rotater. Those stigmas are very tough to shed once they set in.
Rika Hongo (JPN; 179.12, 5th):
It was sad to see Rika finish so low after her strong performances at Cup of China. I thought the Cup of China tech callers were a little lenient on Rika's rotations but the callers here were having none of it. Rika lost points on her opening 3F-3T(
<
) but was able to finish out the rest of her SP strongly and place 6th going into the FS. Rika looked a little out of it in the FS. It took her a minute to warm up to the program. She opened with a ratified 3F-3T but then doubled her 3S. A fall, under-rotation and edge call on her lutz cost her but she bounced back and was able to finish out the rest of the program strongly (though she did receive another under-rotation and edge call on her second lutz as well). Overall the judges weren't nearly as generous as they were in China. Rika finished 5th in the FS and 5th overall. Unfortunately, that won't be enough to get her to the Final this year.
Alaine Chartrand (CAN; 173.42, 6th):
Alaine won the SP for me. I've been in love with her "Pina" SP since the first time I saw it and I'm SO happy she was able to give a perfect performance of it here. Everything about the program was
on
that night: she finally got the rotation on her 3Lz-3T, her other jumps were solid (3L, 2A) and she maxed the levels on all of her non-jump elements as well. Even better than that, Alaine is doing a better job of feeling the music and really performing from start to finish. She was awesome! She put up a big personal best score (67.38) and was 2nd going into the FS. Now given the Russian trio she was up against, I do think it would have been tough for her to make it to the podium; however, Alaine's insistence on putting that 3A at the beginning of her program is destroying her chances at better placements. She's nowhere near rotating it (3A(
<<
)) which means it's not worth it. All she's doing is throwing off her focus for the rest of the program. Alaine fell on the 3A attempt as well as two other jumps but, to her credit, she did fight back toward the end. She finished 7th in the FS and 6th overall. I really hope they reconsider that jump. It's only worth the risk if you can rotate it and she can't...
Well that was fast. Here we are at the end of the Grand Prix season. Just one event left to go! The final event of the Grand Prix series will be NHK Trophy which takes place in Nagano, Japan on November 27-29. Headlining this packed event will be Mao Asada (JPN), Ashley Wagner (USA) and Satoko Miyahara (JPN). We'll also see Anna Pogorilaya (RUS), Kaetlyn Osmond (CAN), Courtney Hicks (USA), Mirai Nagasu (USA), Zijun Li (CHN), Alena Leonova (RUS), Mae Berenice Meite (FRA), Maria Artemieva (RUS) and Mariko Kihara (JPN).
Last GP poll! Who will win gold at NHK Trophy? Make sure to vote!